The Last Supper (Mark 14:22-42)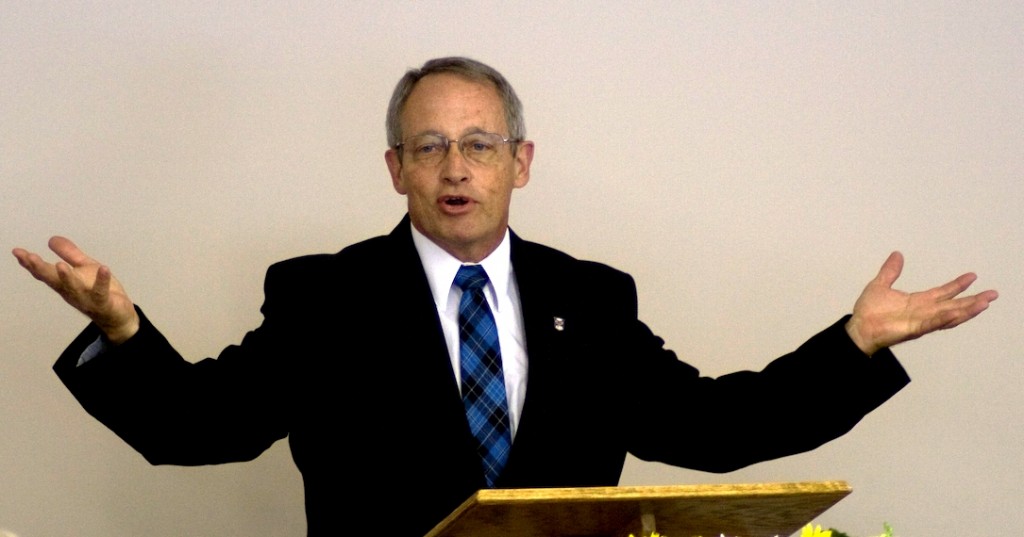 Rev. William L. Barron, March 28, 2021
Preached at a
Sunday Morning
service
The Jews celebrated Passover with four cups as part of their observance. With the first cup, a child asked the family, "Why this food?", and the father told the story of the exodus, and they sang a song. The next cup came with the bread of affliction of which the needy would come and partake. This foreshadowed Jesus' words, "I am the Passover meal." The third cup was the cup of blessing, after which the family would sing again. The fourth cup of the Passover was not partaken of by the disciples in the upper room. Jesus said He would not partake of it again until He shared it with them in Heaven. Jesus then departed to the Mount of Olives and the Garden of Gethsemane, in which was a walled oil press. Jesus saw things that the disciples could not see, including Judas' betrayal and Peter's denial. Even with this denial, Jesus still loved Peter. He knew that like Peter, we all would go astray. Jesus foresaw His own physical and spiritual suffering and His separation from the Father. Jesus freely made a wonderful exchange: His righteousness credited to us; our debt credited to Him and paid by His suffering and death. This redemption is a free gift of God. Jesus' acceptance of the cup of suffering was the only way the substitutionary atonement could happen. Jesus laid down His life of His own accord; it was not forced upon Him. Jesus' work continues on in us as His ambassadors. His resurrection points to the general resurrection, and ours is a bright future. The fourth cup is the greatest, symbolizing God's defeat of our ancient enemy, Satan.
About Rev. William L. Barron:
Billy Barron is the pastor of North Greenville Church. He has pastored ARPC congregations in North and South Carolina and Florida. He has also been pastor to World Witness missionaries around the world. He was Mission Developer of Travelers ARP Church in Travelers Rest, SC.
Mark 14:22–42 (Listen)
22 And as they were eating, he took bread, and after blessing it broke it and gave it to them, and said, "Take; this is my body." 23 And he took a cup, and when he had given thanks he gave it to them, and they all drank of it. 24 And he said to them, "This is my blood of the covenant, which is poured out for many. 25 Truly, I say to you, I will not drink again of the fruit of the vine until that day when I drink it new in the kingdom of God."
26 And when they had sung a hymn, they went out to the Mount of Olives. 27 And Jesus said to them, "You will all fall away, for it is written, 'I will strike the shepherd, and the sheep will be scattered.' 28 But after I am raised up, I will go before you to Galilee." 29 Peter said to him, "Even though they all fall away, I will not." 30 And Jesus said to him, "Truly, I tell you, this very night, before the rooster crows twice, you will deny me three times." 31 But he said emphatically, "If I must die with you, I will not deny you." And they all said the same.
32 And they went to a place called Gethsemane. And he said to his disciples, "Sit here while I pray." 33 And he took with him Peter and James and John, and began to be greatly distressed and troubled. 34 And he said to them, "My soul is very sorrowful, even to death. Remain here and watch." 35 And going a little farther, he fell on the ground and prayed that, if it were possible, the hour might pass from him. 36 And he said, "Abba, Father, all things are possible for you. Remove this cup from me. Yet not what I will, but what you will." 37 And he came and found them sleeping, and he said to Peter, "Simon, are you asleep? Could you not watch one hour? 38 Watch and pray that you may not enter into temptation. The spirit indeed is willing, but the flesh is weak." 39 And again he went away and prayed, saying the same words. 40 And again he came and found them sleeping, for their eyes were very heavy, and they did not know what to answer him. 41 And he came the third time and said to them, "Are you still sleeping and taking your rest? It is enough; the hour has come. The Son of Man is betrayed into the hands of sinners. 42 Rise, let us be going; see, my betrayer is at hand."
(