God Is The Kingdom, The Power, And The Glory (Matthew 6:9-15, Deuteronomy 6:4-9)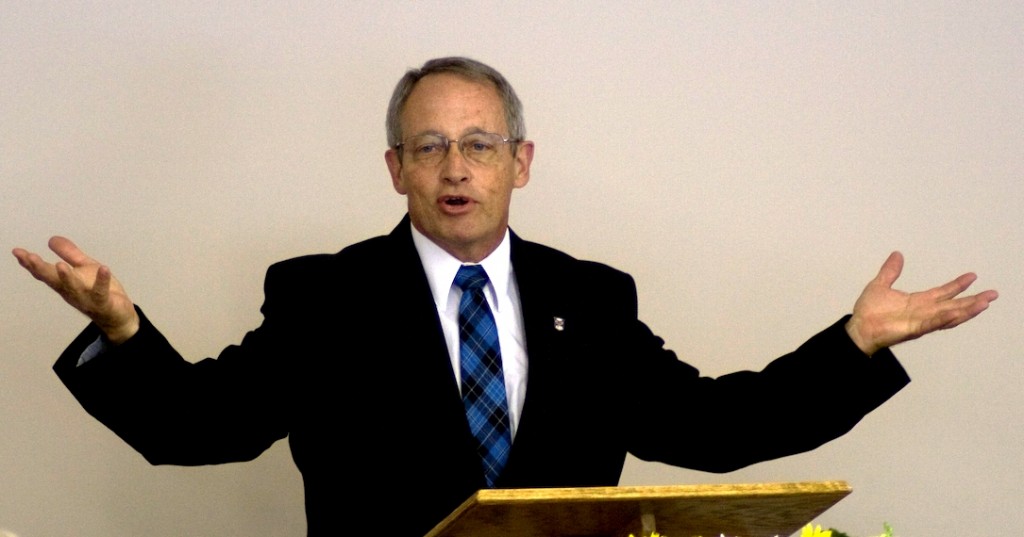 Rev. William L. Barron, October 29, 2023
Part of the
Morning Worship at North Greenville Church
series, preached at a
Sunday Morning
service
The Lord's Prayer contains six petitions to Our Father, made with a familial reference. While pagans hate God, they know about guilt. The Pharisees would not pray in a familial way because of their self-centeredness. Christians are exhorted to "cast thy burdens before the Lord." (1Peter 5). We are to bring everything before the Lord, because we can trust in Him. How do we dare to call God our Father? We acknowledge that we are sinners, but we are required to live out our whole life before Him. We must say, "Take charge of my whole life, you know best." The Lord's Prayer is a model for our own prayers and an outline of our priorities. We acknowledge that God is a holy, heavenly being. We approach Him with intimacy, but also with reverence. "Our" portrays our relationship together, God and man. When we proclaim, "Holy is thy Name," we are saying, "allow me to make Your name holy before others." And equally, "May I glorify Your Name." The second and third petitions concern God's kingdom and will. God is king of the universe. His kingdom has come, yet it is still coming. We can take comfort that God has promised that nothing will stop the building of the church until He (Christ) returns. We seek His will to be expressed through us by living and following His will, so that others will see Him in us. We bow down to His sovereign will. We must commit ourselves to promoting the spread of the gospel. He has promised the coming of the Holy Spirit to lead us in this. The Holy Spirit enables us to understand the Bible, and this comes to us in a meaningful way through prayer. The fourth petition, concerning our daily bread, refers to not only our needs but also for our spiritual food for tomorrow, so that we don't drift off on our own way. We plead for God to bring us into conformity with His will. The fifth petition concerns forgiveness. This part of the prayer is hard if we do it properly. We affirm that we are not the persons we should be, or that we want to be. If we have been forgiven, we will be forgiving people, understanding the weight of our own sin. The sixth petition regards release from temptation. Jesus in the wilderness experienced real temptation, the same as we face, yet He never sinned. He turned to His Father. We are born sinners and fall to temptations from Satan, the world and the flesh. As we see in Ephesians 6, we must put on the full armor of God. The closing is a doxology, not contained in the oldest manuscripts. May this prayer be our model and outline for how we approach our Father in prayer.
About Rev. William L. Barron:
Billy Barron is the pastor of North Greenville Church. He has pastored ARPC congregations in North and South Carolina and Florida. He has also been pastor to World Witness missionaries around the world. He was Mission Developer of Travelers ARP Church in Travelers Rest, SC.
Matthew 6:9–15 (Listen)
9 Pray then like this:
"Our Father in heaven,
hallowed be your name.
10 Your kingdom come,
your will be done,
on earth as it is in heaven.
11 Give us this day our daily bread,
12 and forgive us our debts,
as we also have forgiven our debtors.
13 And lead us not into temptation,
but deliver us from evil.

14 For if you forgive others their trespasses, your heavenly Father will also forgive you, 15 but if you do not forgive others their trespasses, neither will your Father forgive your trespasses.
(
Deuteronomy 6:4–9 (Listen)
4 "Hear, O Israel: The LORD our God, the LORD is one. 5 You shall love the LORD your God with all your heart and with all your soul and with all your might. 6 And these words that I command you today shall be on your heart. 7 You shall teach them diligently to your children, and shall talk of them when you sit in your house, and when you walk by the way, and when you lie down, and when you rise. 8 You shall bind them as a sign on your hand, and they shall be as frontlets between your eyes. 9 You shall write them on the doorposts of your house and on your gates.
(ESV)