Instruction On True Worship (Hebrews 10:19-25, Ezekiel 36:22-36, Psalm 66:18)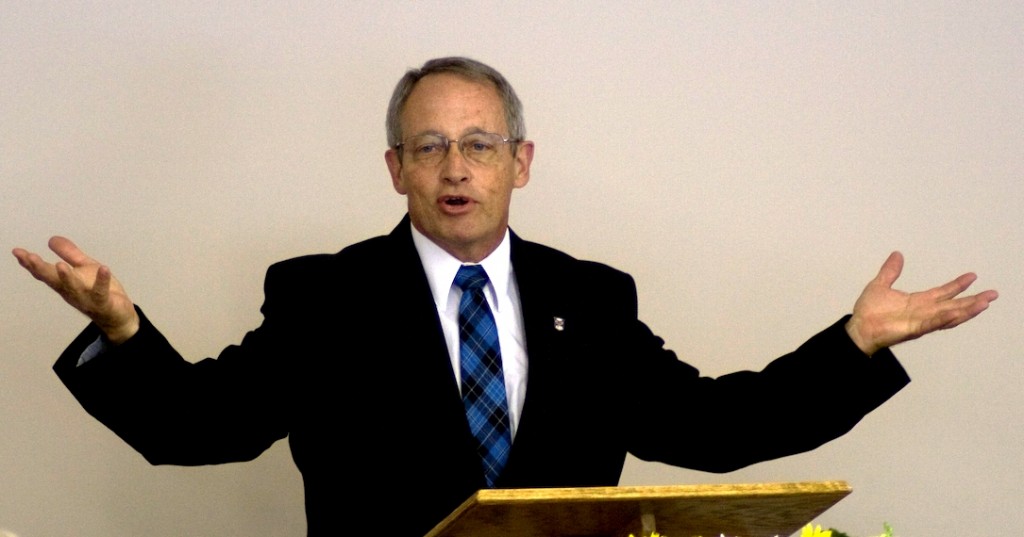 Rev. William L. Barron, October 21, 2018
Preached at a
Sunday Morning
service
We have access to God through Christ, who is our great high priest. The issue then becomes how we live our lives. "Draw near" is really a command rather than a suggestion. How do we draw near? Two ways are prayer and by reading God's Word. We have the assurance through the Word that if we come to God, Jesus is with us. Ezekiel prophesies about the new covenant that applies to all nations. The blessing is an abundant life. For what purpose? God says, "For the sake of my Holy Name." It's not about us. What is a true heart? One that is functioning as it should. A sick heart is sinful. The heart becomes true when we become Christians; it is undivided and serves its holy Master. We can't love God without a new heart. With it, we receive full assurance of faith, trust, honest discipline and encouragement. Our faith should grow, especially as we face challenges together. God provides the blessings of grace for His own glory and for our benefit. Through Jesus' final atonement, we draw near, freed from an evil conscience. The blood of Christ cleans and purifies our consciences. A clean conscience is one that confesses sin. If we hide our sin, God will not hear our prayers (Psalm 66: 18). We must purge any earthly reasons for coming to worship; desiring solely to ascribe honor and glory to Him. The pure water is the Holy Spirit, through which we can interact with God, individually and collectively. However, we are like leaky vessels, and we must renew our devotion every day (individually) and collectively (public worship) or we will move away from God.
About Rev. William L. Barron:
Billy Barron is the pastor of North Greenville Church. He has pastored ARPC congregations in North and South Carolina and Florida. He has also been pastor to World Witness missionaries around the world. He was Mission Developer of Travelers ARP Church in Travelers Rest, SC.
Hebrews 10:19–25 (Listen)
19 Therefore, brothers, since we have confidence to enter the holy places by the blood of Jesus, 20 by the new and living way that he opened for us through the curtain, that is, through his flesh, 21 and since we have a great priest over the house of God, 22 let us draw near with a true heart in full assurance of faith, with our hearts sprinkled clean from an evil conscience and our bodies washed with pure water. 23 Let us hold fast the confession of our hope without wavering, for he who promised is faithful. 24 And let us consider how to stir up one another to love and good works, 25 not neglecting to meet together, as is the habit of some, but encouraging one another, and all the more as you see the Day drawing near.
(
Ezekiel 36:22–36 (Listen)
22 "Therefore say to the house of Israel, Thus says the Lord GOD: It is not for your sake, O house of Israel, that I am about to act, but for the sake of my holy name, which you have profaned among the nations to which you came. 23 And I will vindicate the holiness of my great name, which has been profaned among the nations, and which you have profaned among them. And the nations will know that I am the LORD, declares the Lord GOD, when through you I vindicate my holiness before their eyes. 24 I will take you from the nations and gather you from all the countries and bring you into your own land. 25 I will sprinkle clean water on you, and you shall be clean from all your uncleannesses, and from all your idols I will cleanse you. 26 And I will give you a new heart, and a new spirit I will put within you. And I will remove the heart of stone from your flesh and give you a heart of flesh. 27 And I will put my Spirit within you, and cause you to walk in my statutes and be careful to obey my rules. 28 You shall dwell in the land that I gave to your fathers, and you shall be my people, and I will be your God. 29 And I will deliver you from all your uncleannesses. And I will summon the grain and make it abundant and lay no famine upon you. 30 I will make the fruit of the tree and the increase of the field abundant, that you may never again suffer the disgrace of famine among the nations. 31 Then you will remember your evil ways, and your deeds that were not good, and you will loathe yourselves for your iniquities and your abominations. 32 It is not for your sake that I will act, declares the Lord GOD; let that be known to you. Be ashamed and confounded for your ways, O house of Israel.
33 "Thus says the Lord GOD: On the day that I cleanse you from all your iniquities, I will cause the cities to be inhabited, and the waste places shall be rebuilt. 34 And the land that was desolate shall be tilled, instead of being the desolation that it was in the sight of all who passed by. 35 And they will say, 'This land that was desolate has become like the garden of Eden, and the waste and desolate and ruined cities are now fortified and inhabited.' 36 Then the nations that are left all around you shall know that I am the LORD; I have rebuilt the ruined places and replanted that which was desolate. I am the LORD; I have spoken, and I will do it.
(ESV)
Psalm 66:18 (Listen)
18 If I had cherished iniquity in my heart,
the Lord would not have listened.

(ESV)