Is This a Blessing or a Curse? No It Is Reality- Justice and Grace! (Genesis 49:1-12, Romans 9:1-16)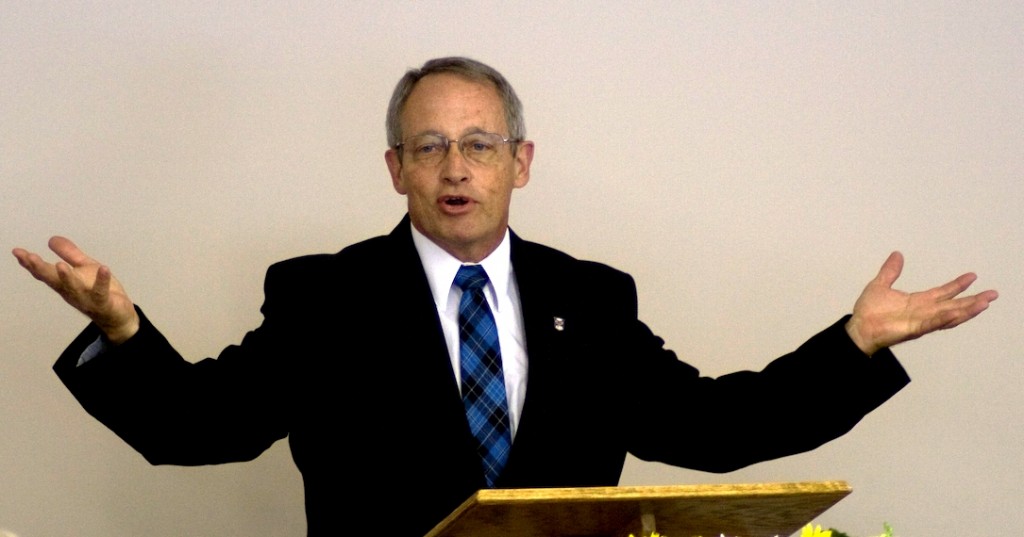 Rev. William L. Barron, June 21, 2020
Preached at a
Sunday Morning
service
At the end of his life, Jacob blessed, or perhaps cursed, his sons, according to God's plan. The oldest sons should have had all the rights, but they forfeited them because they were weak, rebellious and violent, and not submissive to God. Why did Judah receive the ultimate blessing and gain the power and rule that would ultimately remain forever through Christ? He confessed his sin and submitted to the Lord.
About Rev. William L. Barron:
Billy Barron is the pastor of North Greenville Church. He has pastored ARPC congregations in North and South Carolina and Florida. He has also been pastor to World Witness missionaries around the world. He was Mission Developer of Travelers ARP Church in Travelers Rest, SC.
Genesis 49:1–12 (Listen)
49:1 Then Jacob called his sons and said, "Gather yourselves together, that I may tell you what shall happen to you in days to come.
2 "Assemble and listen, O sons of Jacob,
listen to Israel your father.
3 "Reuben, you are my firstborn,
my might, and the firstfruits of my strength,
preeminent in dignity and preeminent in power.
4 Unstable as water, you shall not have preeminence,
because you went up to your father's bed;
then you defiled it—he went up to my couch!
5 "Simeon and Levi are brothers;
weapons of violence are their swords.
6 Let my soul come not into their council;
O my glory, be not joined to their company.
For in their anger they killed men,
and in their willfulness they hamstrung oxen.
7 Cursed be their anger, for it is fierce,
and their wrath, for it is cruel!
I will divide them in Jacob
and scatter them in Israel.
8 "Judah, your brothers shall praise you;
your hand shall be on the neck of your enemies;
your father's sons shall bow down before you.
9 Judah is a lion's cub;
from the prey, my son, you have gone up.
He stooped down; he crouched as a lion
and as a lioness; who dares rouse him?
10 The scepter shall not depart from Judah,
nor the ruler's staff from between his feet,
until tribute comes to him;
and to him shall be the obedience of the peoples.
11 Binding his foal to the vine
and his donkey's colt to the choice vine,
he has washed his garments in wine
and his vesture in the blood of grapes.
12 His eyes are darker than wine,
and his teeth whiter than milk.

(
Romans 9:1–16 (Listen)
9:1 I am speaking the truth in Christ—I am not lying; my conscience bears me witness in the Holy Spirit—2 that I have great sorrow and unceasing anguish in my heart. 3 For I could wish that I myself were accursed and cut off from Christ for the sake of my brothers, my kinsmen according to the flesh. 4 They are Israelites, and to them belong the adoption, the glory, the covenants, the giving of the law, the worship, and the promises. 5 To them belong the patriarchs, and from their race, according to the flesh, is the Christ, who is God over all, blessed forever. Amen.
6 But it is not as though the word of God has failed. For not all who are descended from Israel belong to Israel, 7 and not all are children of Abraham because they are his offspring, but "Through Isaac shall your offspring be named." 8 This means that it is not the children of the flesh who are the children of God, but the children of the promise are counted as offspring. 9 For this is what the promise said: "About this time next year I will return, and Sarah shall have a son." 10 And not only so, but also when Rebekah had conceived children by one man, our forefather Isaac, 11 though they were not yet born and had done nothing either good or bad—in order that God's purpose of election might continue, not because of works but because of him who calls—12 she was told, "The older will serve the younger." 13 As it is written, "Jacob I loved, but Esau I hated."
14 What shall we say then? Is there injustice on God's part? By no means! 15 For he says to Moses, "I will have mercy on whom I have mercy, and I will have compassion on whom I have compassion." 16 So then it depends not on human will or exertion, but on God, who has mercy.
(ESV)