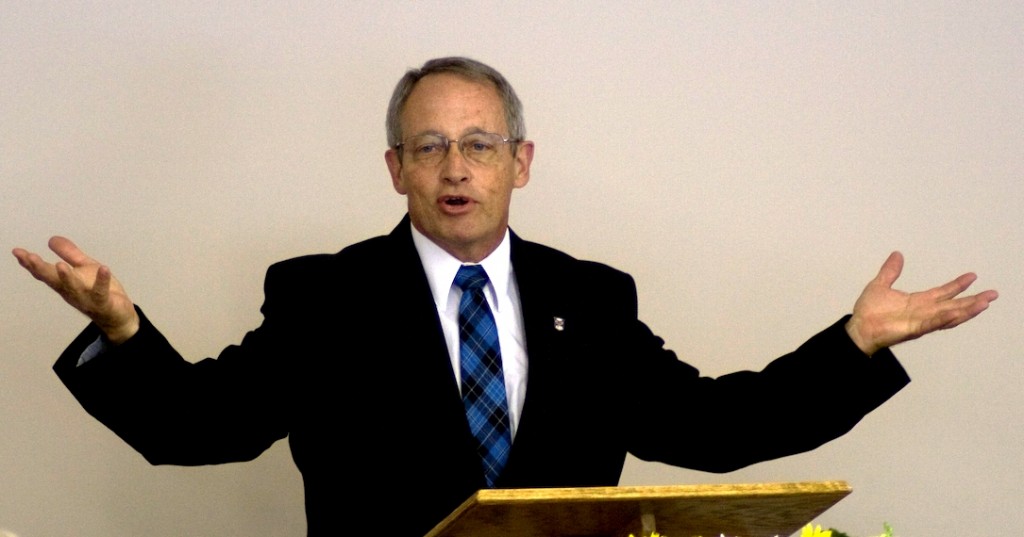 Rev. William L. Barron, January 31, 2021
Preached at a
Sunday Morning
service
Previously, Paul acknowledged the Corinthians' readiness to give. Now he states that it is time for the collection. We learn from this that being ready and eager is not enough; we must actually give--financially and of ourselves. Giving is a sign of true conversion, of a changed heart. We give willingly and cheerfully, not with a grudging heart. We give not only once a week, but also wherever we see the need. We must be used in God's service. Giving is an individual and family responsibility. Giving comes from the heart, through prayer. Tithing is a baseline. Prosperity brings responsibility. We can never outmatch God's giving, yet He doesn't need our money. God owns everything, and He allows us to be part of His work. The church' s operational needs should be met by the giving of the people and not by commercial transactions. God will bless whatever comes in, and He will bless faithful givers, and use them for Him in thanksgiving. He forges us into one body, whatever our background. We are to live out our faith and let our light shine, which is our good words and deeds in thankfulness. The Gospel tears down dividing walls; we are all one in Christ Jesus, and all thanks goes to God.
About Rev. William L. Barron:
Billy Barron is the pastor of North Greenville Church. He has pastored ARPC congregations in North and South Carolina and Florida. He has also been pastor to World Witness missionaries around the world. He was Mission Developer of Travelers ARP Church in Travelers Rest, SC.
2 Corinthians 9 (Listen)
9:1 Now it is superfluous for me to write to you about the ministry for the saints, 2 for I know your readiness, of which I boast about you to the people of Macedonia, saying that Achaia has been ready since last year. And your zeal has stirred up most of them. 3 But I am sending the brothers so that our boasting about you may not prove empty in this matter, so that you may be ready, as I said you would be. 4 Otherwise, if some Macedonians come with me and find that you are not ready, we would be humiliated—to say nothing of you—for being so confident. 5 So I thought it necessary to urge the brothers to go on ahead to you and arrange in advance for the gift you have promised, so that it may be ready as a willing gift, not as an exaction.
6 The point is this: whoever sows sparingly will also reap sparingly, and whoever sows bountifully will also reap bountifully. 7 Each one must give as he has decided in his heart, not reluctantly or under compulsion, for God loves a cheerful giver. 8 And God is able to make all grace abound to you, so that having all sufficiency in all things at all times, you may abound in every good work. 9 As it is written,
"He has distributed freely, he has given to the poor;
his righteousness endures forever."

10 He who supplies seed to the sower and bread for food will supply and multiply your seed for sowing and increase the harvest of your righteousness. 11 You will be enriched in every way to be generous in every way, which through us will produce thanksgiving to God. 12 For the ministry of this service is not only supplying the needs of the saints but is also overflowing in many thanksgivings to God. 13 By their approval of this service, they will glorify God because of your submission that comes from your confession of the gospel of Christ, and the generosity of your contribution for them and for all others, 14 while they long for you and pray for you, because of the surpassing grace of God upon you. 15 Thanks be to God for his inexpressible gift!
(
Deuteronomy 15:1–11 (Listen)
15:1 "At the end of every seven years you shall grant a release. 2 And this is the manner of the release: every creditor shall release what he has lent to his neighbor. He shall not exact it of his neighbor, his brother, because the LORD's release has been proclaimed. 3 Of a foreigner you may exact it, but whatever of yours is with your brother your hand shall release. 4 But there will be no poor among you; for the LORD will bless you in the land that the LORD your God is giving you for an inheritance to possess—5 if only you will strictly obey the voice of the LORD your God, being careful to do all this commandment that I command you today. 6 For the LORD your God will bless you, as he promised you, and you shall lend to many nations, but you shall not borrow, and you shall rule over many nations, but they shall not rule over you.
7 "If among you, one of your brothers should become poor, in any of your towns within your land that the LORD your God is giving you, you shall not harden your heart or shut your hand against your poor brother, 8 but you shall open your hand to him and lend him sufficient for his need, whatever it may be. 9 Take care lest there be an unworthy thought in your heart and you say, 'The seventh year, the year of release is near,' and your eye look grudgingly on your poor brother, and you give him nothing, and he cry to the LORD against you, and you be guilty of sin. 10 You shall give to him freely, and your heart shall not be grudging when you give to him, because for this the LORD your God will bless you in all your work and in all that you undertake. 11 For there will never cease to be poor in the land. Therefore I command you, 'You shall open wide your hand to your brother, to the needy and to the poor, in your land.'
(ESV)