Elijah: A Man To Be Trusted (1 Kings 18:1-19, Matthew 5:33-37)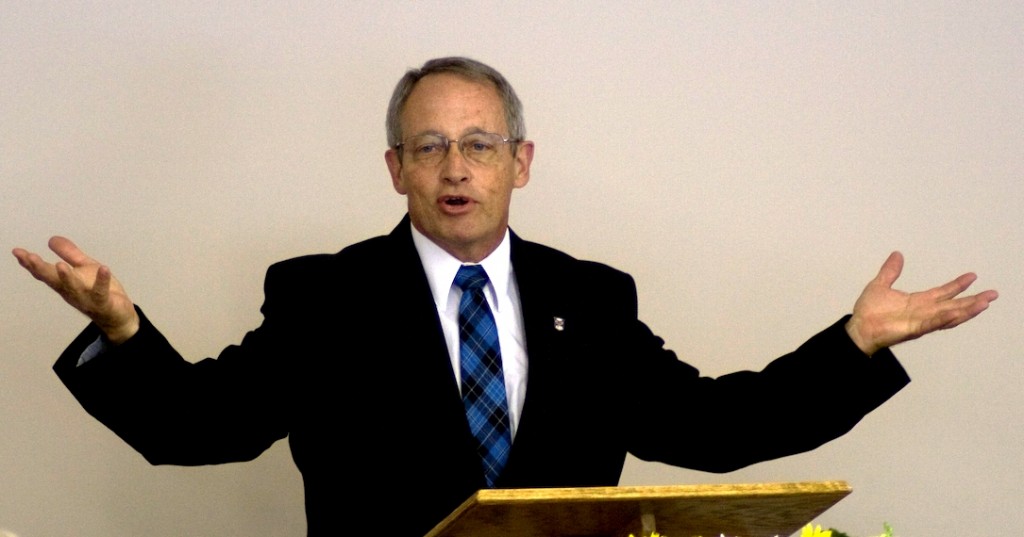 Rev. William L. Barron, May 9, 2021
Preached at a
Sunday Morning
service
This passage begins with the relationship between Obadiah and King Ahab. Ahab was very godless, but Obadiah feared God. However, Obadiah was loyal to Ahab. Obadiah had saved condemned prophets; he was not a nominal believer. We should ask ourselves how we should function under a godless boss. Scripture teaches us to obey God rather than man. Obadiah trusted in God's providence. Ahab cared more about horses than he did about his people. We understand that man, not animals, are created in the image of God. The truth is that if we hate God, we will love animals more than people. Obadiah and Elijah were both Godly. Both trusted and obeyed the truth of God. In Matthew 5, Jesus teaches us that whatever we speak, our word should be good. Elijah affirmed that he would be present when Ahab came. Ahab called Elijah the troubler of Israel. Israel was in an extended drought. Ahab was trusting in Baal rather than in God, and he blamed Elijah. Ahab's sinfulness resulted in the drought. In our day, Christians are viewed as the troublemakers of society. In truth, Ahab was the troubler. King David repented of his sin; Ahab did not and became more angry, vowing to kill Elijah. At Mt. Carmel, the idolaters lost, while Elijah, the prophet of God, proved to be a man who could be trusted. What about us? Are we praying for a mighty response or a small, quiet providence? God's providence is always in play. Those who follow risk much, but God takes care of those who can be trusted and rest content in His will.
About Rev. William L. Barron:
Billy Barron is the pastor of North Greenville Church. He has pastored ARPC congregations in North and South Carolina and Florida. He has also been pastor to World Witness missionaries around the world. He was Mission Developer of Travelers ARP Church in Travelers Rest, SC.
1 Kings 18:1–19 (Listen)
18:1 After many days the word of the LORD came to Elijah, in the third year, saying, "Go, show yourself to Ahab, and I will send rain upon the earth." 2 So Elijah went to show himself to Ahab. Now the famine was severe in Samaria. 3 And Ahab called Obadiah, who was over the household. (Now Obadiah feared the LORD greatly, 4 and when Jezebel cut off the prophets of the LORD, Obadiah took a hundred prophets and hid them by fifties in a cave and fed them with bread and water.) 5 And Ahab said to Obadiah, "Go through the land to all the springs of water and to all the valleys. Perhaps we may find grass and save the horses and mules alive, and not lose some of the animals." 6 So they divided the land between them to pass through it. Ahab went in one direction by himself, and Obadiah went in another direction by himself.
7 And as Obadiah was on the way, behold, Elijah met him. And Obadiah recognized him and fell on his face and said, "Is it you, my lord Elijah?" 8 And he answered him, "It is I. Go, tell your lord, 'Behold, Elijah is here.'" 9 And he said, "How have I sinned, that you would give your servant into the hand of Ahab, to kill me? 10 As the LORD your God lives, there is no nation or kingdom where my lord has not sent to seek you. And when they would say, 'He is not here,' he would take an oath of the kingdom or nation, that they had not found you. 11 And now you say, 'Go, tell your lord, "Behold, Elijah is here."' 12 And as soon as I have gone from you, the Spirit of the LORD will carry you I know not where. And so, when I come and tell Ahab and he cannot find you, he will kill me, although I your servant have feared the LORD from my youth. 13 Has it not been told my lord what I did when Jezebel killed the prophets of the LORD, how I hid a hundred men of the LORD's prophets by fifties in a cave and fed them with bread and water? 14 And now you say, 'Go, tell your lord, "Behold, Elijah is here"'; and he will kill me." 15 And Elijah said, "As the LORD of hosts lives, before whom I stand, I will surely show myself to him today." 16 So Obadiah went to meet Ahab, and told him. And Ahab went to meet Elijah.
17 When Ahab saw Elijah, Ahab said to him, "Is it you, you troubler of Israel?" 18 And he answered, "I have not troubled Israel, but you have, and your father's house, because you have abandoned the commandments of the LORD and followed the Baals. 19 Now therefore send and gather all Israel to me at Mount Carmel, and the 450 prophets of Baal and the 400 prophets of Asherah, who eat at Jezebel's table."
(
Matthew 5:33–37 (Listen)
33 "Again you have heard that it was said to those of old, 'You shall not swear falsely, but shall perform to the Lord what you have sworn.' 34 But I say to you, Do not take an oath at all, either by heaven, for it is the throne of God, 35 or by the earth, for it is his footstool, or by Jerusalem, for it is the city of the great King. 36 And do not take an oath by your head, for you cannot make one hair white or black. 37 Let what you say be simply 'Yes' or 'No'; anything more than this comes from evil.
(ESV)