Elijah: A Man Of Fear (1 Kings 19:40-20:8, Matthew 14:22-33)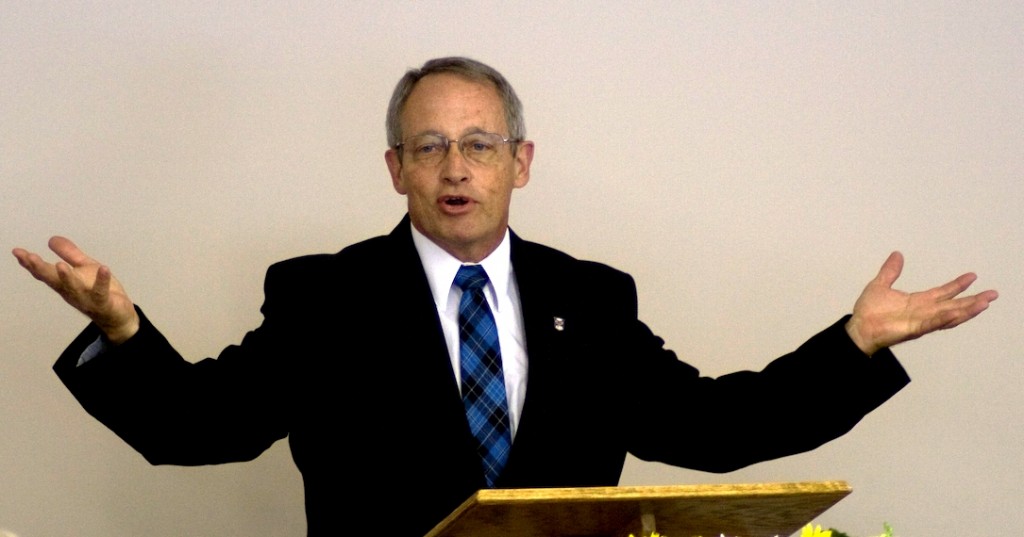 Rev. William L. Barron, May 23, 2021
Preached at a
Sunday Morning
service
The slaughter of the Prophets of Baal was a divine prerogative connected with the sin of false worship, for which the prophets refused to repent. Elijah had prayed earnestly to God and humbled himself before the Lord. We are not the power behind prayer, with which we seek to align with God's promises. Our prayers are second causes; God chooses to do His will through the prayers of His people. God answers prayer in many different ways; the answers may be immediate or delayed. God wants us to be persistent in prayer. Sometimes He answers with a "No!" We must remember that His ways are not our ways. Sometimes God answers with dramatic interventions, such as on Mt. Carmel. Following this intervention, Elijah became a man on the run. He ran 17 miles to Jezreel, after which demonstrating his servanthood to Ahab. He called on Ahab to repent and follow God, presenting the demand of the Gospel. Jezebel responded by vowing to kill Elijah, who then ran 100 miles into Judah. There he was refreshed through the ministrations of an angel. He then journeyed 40 days to Horeb, showing that he was afraid, a man like us. Fear and faith are opposites, as taught to us by Jesus during Peter's attempt to walk on water. Did Elijah have any real reason to be afraid as he was resting in God's will? In his fear of Jezebel, he was forgetting the promises of God. God will never be unfaithful to His children; He calls on us to believe and repent. God had a plan for Elijah, but things would get worse for him before they would get better by God's grace.
About Rev. William L. Barron:
Billy Barron is the pastor of North Greenville Church. He has pastored ARPC congregations in North and South Carolina and Florida. He has also been pastor to World Witness missionaries around the world. He was Mission Developer of Travelers ARP Church in Travelers Rest, SC.
1 Kings 19:21–20:8 (Listen)
21 And he returned from following him and took the yoke of oxen and sacrificed them and boiled their flesh with the yokes of the oxen and gave it to the people, and they ate. Then he arose and went after Elijah and assisted him.
20:1 Ben-hadad the king of Syria gathered all his army together. Thirty-two kings were with him, and horses and chariots. And he went up and closed in on Samaria and fought against it. 2 And he sent messengers into the city to Ahab king of Israel and said to him, "Thus says Ben-hadad: 3 'Your silver and your gold are mine; your best wives and children also are mine.'" 4 And the king of Israel answered, "As you say, my lord, O king, I am yours, and all that I have." 5 The messengers came again and said, "Thus says Ben-hadad: 'I sent to you, saying, "Deliver to me your silver and your gold, your wives and your children." 6 Nevertheless I will send my servants to you tomorrow about this time, and they shall search your house and the houses of your servants and lay hands on whatever pleases you and take it away.'"
7 Then the king of Israel called all the elders of the land and said, "Mark, now, and see how this man is seeking trouble, for he sent to me for my wives and my children, and for my silver and my gold, and I did not refuse him." 8 And all the elders and all the people said to him, "Do not listen or consent."
(
Matthew 14:22–33 (Listen)
22 Immediately he made the disciples get into the boat and go before him to the other side, while he dismissed the crowds. 23 And after he had dismissed the crowds, he went up on the mountain by himself to pray. When evening came, he was there alone, 24 but the boat by this time was a long way from the land, beaten by the waves, for the wind was against them. 25 And in the fourth watch of the night he came to them, walking on the sea. 26 But when the disciples saw him walking on the sea, they were terrified, and said, "It is a ghost!" and they cried out in fear. 27 But immediately Jesus spoke to them, saying, "Take heart; it is I. Do not be afraid."
28 And Peter answered him, "Lord, if it is you, command me to come to you on the water." 29 He said, "Come." So Peter got out of the boat and walked on the water and came to Jesus. 30 But when he saw the wind, he was afraid, and beginning to sink he cried out, "Lord, save me." 31 Jesus immediately reached out his hand and took hold of him, saying to him, "O you of little faith, why did you doubt?" 32 And when they got into the boat, the wind ceased. 33 And those in the boat worshiped him, saying, "Truly you are the Son of God."
(ESV)