Elijah: A Man For Eternity (1 Kings 2:1-18, Acts 1:1-11)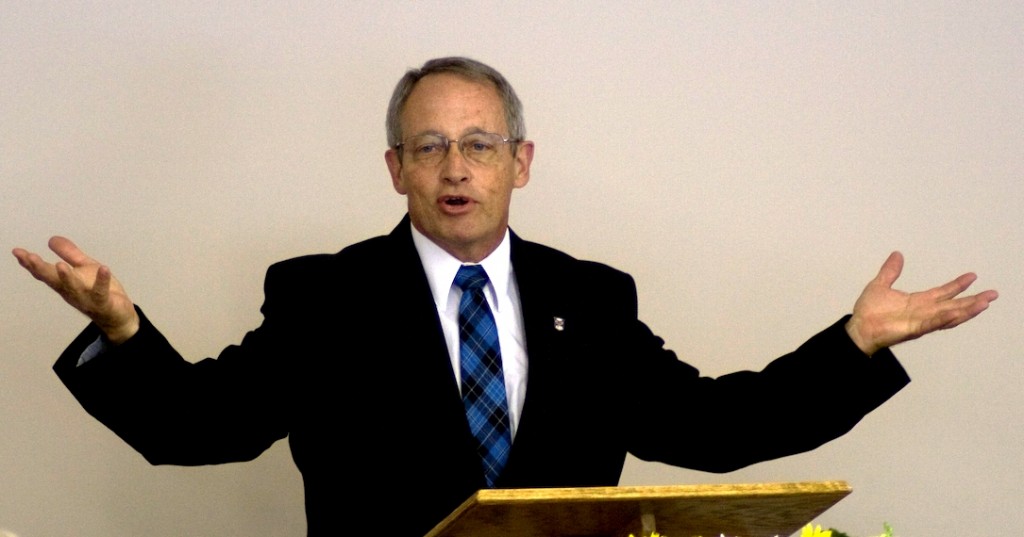 Rev. William L. Barron, June 27, 2021
Preached at a
Sunday Morning
service
This is the conclusion of Elijah's life. We will see if Elisha is ready to take over. Elijah presided over the School of the Prophets, possibly prophets in training. They seem to know what is going to happen with Elijah, that this will be his last day on earth. Elisha, at the banks of the Jordan, is going to be shown as the one to take over for Elijah, just as Joshua was shown to be Moses' successor. Elijah offers a blessing to Elisha. Elisha requests the blessing of the first-born, a double portion of the inheritance. This inheritance centers around the Holy Spirit. Is he ready to take up the mantle (symbolizing the responsibility)? He must be ready to rely upon the Spirit of God. Seeking to serve is not easy. Elijah said that if God took him away, Elisha would know that he was receiving the double portion. Jesus was taken in a cloud at the Ascension; this was very similar. The mantle of Elijah falls up and was taken up by Elisha. He struck the water, and it parted. The Sons of the Prophets testify that the Spirit of God rests upon Elisha. He was the true successor. Where is the Lord? Clearly He is with Elisha. He is also everlasting, and never changes. He is faithful from beginning to end.
About Rev. William L. Barron:
Billy Barron is the pastor of North Greenville Church. He has pastored ARPC congregations in North and South Carolina and Florida. He has also been pastor to World Witness missionaries around the world. He was Mission Developer of Travelers ARP Church in Travelers Rest, SC.
1 Kings 2:1–18 (Listen)
2:1 When David's time to die drew near, he commanded Solomon his son, saying, 2 "I am about to go the way of all the earth. Be strong, and show yourself a man, 3 and keep the charge of the LORD your God, walking in his ways and keeping his statutes, his commandments, his rules, and his testimonies, as it is written in the Law of Moses, that you may prosper in all that you do and wherever you turn, 4 that the LORD may establish his word that he spoke concerning me, saying, 'If your sons pay close attention to their way, to walk before me in faithfulness with all their heart and with all their soul, you shall not lack a man on the throne of Israel.'
5 "Moreover, you also know what Joab the son of Zeruiah did to me, how he dealt with the two commanders of the armies of Israel, Abner the son of Ner, and Amasa the son of Jether, whom he killed, avenging in time of peace for blood that had been shed in war, and putting the blood of war on the belt around his waist and on the sandals on his feet. 6 Act therefore according to your wisdom, but do not let his gray head go down to Sheol in peace. 7 But deal loyally with the sons of Barzillai the Gileadite, and let them be among those who eat at your table, for with such loyalty they met me when I fled from Absalom your brother. 8 And there is also with you Shimei the son of Gera, the Benjaminite from Bahurim, who cursed me with a grievous curse on the day when I went to Mahanaim. But when he came down to meet me at the Jordan, I swore to him by the LORD, saying, 'I will not put you to death with the sword.' 9 Now therefore do not hold him guiltless, for you are a wise man. You will know what you ought to do to him, and you shall bring his gray head down with blood to Sheol."
10 Then David slept with his fathers and was buried in the city of David. 11 And the time that David reigned over Israel was forty years. He reigned seven years in Hebron and thirty-three years in Jerusalem. 12 So Solomon sat on the throne of David his father, and his kingdom was firmly established.
13 Then Adonijah the son of Haggith came to Bathsheba the mother of Solomon. And she said, "Do you come peacefully?" He said, "Peacefully." 14 Then he said, "I have something to say to you." She said, "Speak." 15 He said, "You know that the kingdom was mine, and that all Israel fully expected me to reign. However, the kingdom has turned about and become my brother's, for it was his from the LORD. 16 And now I have one request to make of you; do not refuse me." She said to him, "Speak." 17 And he said, "Please ask King Solomon—he will not refuse you—to give me Abishag the Shunammite as my wife." 18 Bathsheba said, "Very well; I will speak for you to the king."
(
Acts 1:1–11 (Listen)
1:1 In the first book, O Theophilus, I have dealt with all that Jesus began to do and teach, 2 until the day when he was taken up, after he had given commands through the Holy Spirit to the apostles whom he had chosen. 3 He presented himself alive to them after his suffering by many proofs, appearing to them during forty days and speaking about the kingdom of God.
4 And while staying with them he ordered them not to depart from Jerusalem, but to wait for the promise of the Father, which, he said, "you heard from me; 5 for John baptized with water, but you will be baptized with the Holy Spirit not many days from now."
6 So when they had come together, they asked him, "Lord, will you at this time restore the kingdom to Israel?" 7 He said to them, "It is not for you to know times or seasons that the Father has fixed by his own authority. 8 But you will receive power when the Holy Spirit has come upon you, and you will be my witnesses in Jerusalem and in all Judea and Samaria, and to the end of the earth." 9 And when he had said these things, as they were looking on, he was lifted up, and a cloud took him out of their sight. 10 And while they were gazing into heaven as he went, behold, two men stood by them in white robes, 11 and said, "Men of Galilee, why do you stand looking into heaven? This Jesus, who was taken up from you into heaven, will come in the same way as you saw him go into heaven."
(ESV)