God's Overflowing Goodness (2 Kings 4:1-7, 1 Timothy 5:3-16)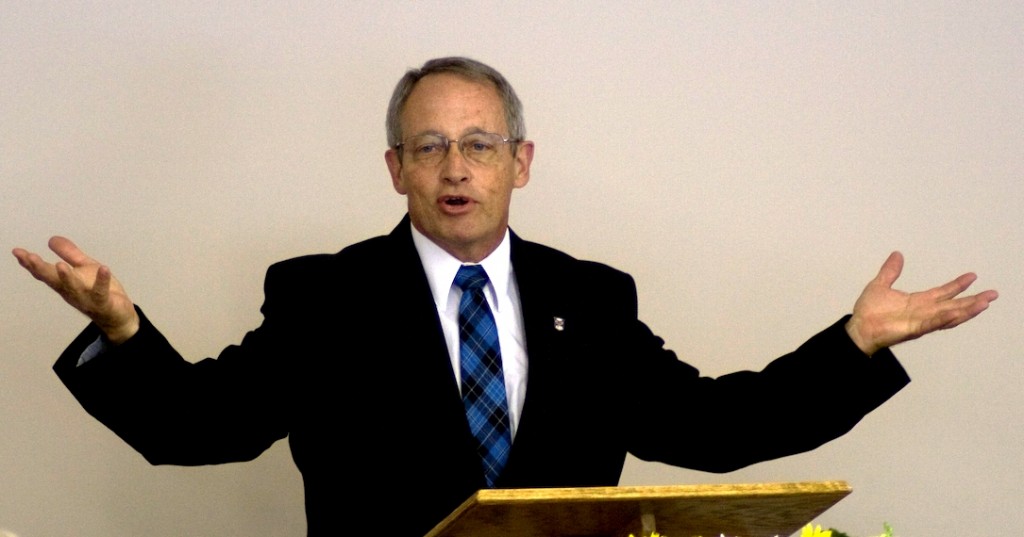 Rev. William L. Barron, April 24, 2022
Preached at a
Sunday Morning
service
The wife of one of the sons of the prophets was in a double predicament, and she cried out to Elisha. Her husband was dead, and he had been in debt. This meant that they could be sold into slavery by her husband's creditor. Yet, she doesn't blame God, she consults Elisha. The lesson is that come what may, we must trust in God, who has told His church through James that providing for widows and orphans is true religion. He provides in many ways throughout scripture by way of His people: committing lost sheep to foreigners and widows, leaving remaining olives on trees for widows and leaving unharvested grain in the corners of fields for gleaning widows; these are some of God's provisions. In Psalm 68 we learn that God is father to the fatherless and the protector of widows. Through Timothy, God gives further instructions for His care over widows: younger widows should remarry, older widows should show godliness, families are to provide for their widows, solitary widows are to be put on the roll if faithful and over 60. In the case of the poor widow in 2 Kings, God provided an endless supply of olive oil for her to sell and pay off her husband's debts, saving her sons from slavery. She demonstrates trust in God. If we are obedient, we will experience God's love poured into our hearts. David showed this love to Mephibosheth, treating Saul's son as his own. God provides through His people and through prayer. We must seek now how God would work through us. How is He using us? We must open our hearts to God in service to His Kingdom.
About Rev. William L. Barron:
Billy Barron is the pastor of North Greenville Church. He has pastored ARPC congregations in North and South Carolina and Florida. He has also been pastor to World Witness missionaries around the world. He was Mission Developer of Travelers ARP Church in Travelers Rest, SC.
2 Kings 4:1–7 (Listen)
4:1 Now the wife of one of the sons of the prophets cried to Elisha, "Your servant my husband is dead, and you know that your servant feared the LORD, but the creditor has come to take my two children to be his slaves." 2 And Elisha said to her, "What shall I do for you? Tell me; what have you in the house?" And she said, "Your servant has nothing in the house except a jar of oil." 3 Then he said, "Go outside, borrow vessels from all your neighbors, empty vessels and not too few. 4 Then go in and shut the door behind yourself and your sons and pour into all these vessels. And when one is full, set it aside." 5 So she went from him and shut the door behind herself and her sons. And as she poured they brought the vessels to her. 6 When the vessels were full, she said to her son, "Bring me another vessel." And he said to her, "There is not another." Then the oil stopped flowing. 7 She came and told the man of God, and he said, "Go, sell the oil and pay your debts, and you and your sons can live on the rest."
(
1 Timothy 5:3–16 (Listen)
3 Honor widows who are truly widows. 4 But if a widow has children or grandchildren, let them first learn to show godliness to their own household and to make some return to their parents, for this is pleasing in the sight of God. 5 She who is truly a widow, left all alone, has set her hope on God and continues in supplications and prayers night and day, 6 but she who is self-indulgent is dead even while she lives. 7 Command these things as well, so that they may be without reproach. 8 But if anyone does not provide for his relatives, and especially for members of his household, he has denied the faith and is worse than an unbeliever.
9 Let a widow be enrolled if she is not less than sixty years of age, having been the wife of one husband, 10 and having a reputation for good works: if she has brought up children, has shown hospitality, has washed the feet of the saints, has cared for the afflicted, and has devoted herself to every good work. 11 But refuse to enroll younger widows, for when their passions draw them away from Christ, they desire to marry 12 and so incur condemnation for having abandoned their former faith. 13 Besides that, they learn to be idlers, going about from house to house, and not only idlers, but also gossips and busybodies, saying what they should not. 14 So I would have younger widows marry, bear children, manage their households, and give the adversary no occasion for slander. 15 For some have already strayed after Satan. 16 If any believing woman has relatives who are widows, let her care for them. Let the church not be burdened, so that it may care for those who are truly widows.
(ESV)