'Follow Me, And I Will Bring You The Man You Seek' (2 Kings 6:8-23, Psalm 124:1-8)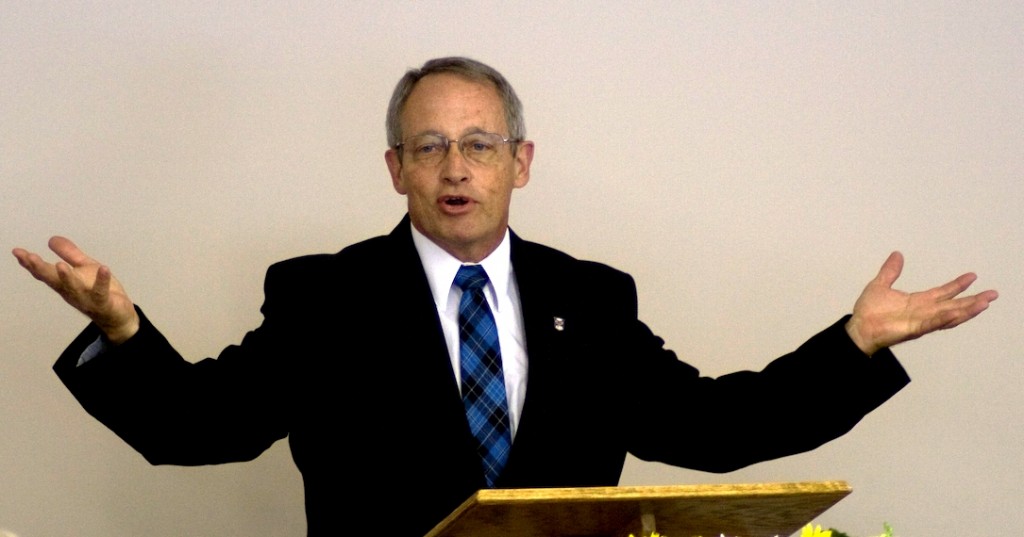 Rev. William L. Barron, June 12, 2022
Preached at a
Sunday Morning
service
We see here a demonstration of the wickedness of the Syrian king. He didn't care whether or not his general was healed from leprosy. Then, as in our time, where has gratitude gone? We forget about God's sovereignty, and we need to be grateful for His blessings to us. Elisha knew the Syrians plans, and they suspected a leak. They encircled Dothan, where Elisha was, at night. Elisha knew that God was on his side. We, likewise, must remember always that we are safe in God's hands. The king of Israel listened to Elisha and followed his direction. God delivered Israel from Syria. Angels led the struck-blind army away. Elisha prayed for their eyes to be opened, and commanded that they be fed and let go. This is a picture of spiritual warfare, rather than physical. God changed Syria's approach, and brought physical salvation to Israel. How do we deal with those who disagree with us? God humbles us when we least expect it. We know of another spiritual salvation, in Jesus Christ. We can lead blind people to Christ, people who may be our enemies. We must be kind and open our mouths to proclaim the Gospel message.
About Rev. William L. Barron:
Billy Barron is the pastor of North Greenville Church. He has pastored ARPC congregations in North and South Carolina and Florida. He has also been pastor to World Witness missionaries around the world. He was Mission Developer of Travelers ARP Church in Travelers Rest, SC.
2 Kings 6:8–23 (Listen)
8 Once when the king of Syria was warring against Israel, he took counsel with his servants, saying, "At such and such a place shall be my camp." 9 But the man of God sent word to the king of Israel, "Beware that you do not pass this place, for the Syrians are going down there." 10 And the king of Israel sent to the place about which the man of God told him. Thus he used to warn him, so that he saved himself there more than once or twice.
11 And the mind of the king of Syria was greatly troubled because of this thing, and he called his servants and said to them, "Will you not show me who of us is for the king of Israel?" 12 And one of his servants said, "None, my lord, O king; but Elisha, the prophet who is in Israel, tells the king of Israel the words that you speak in your bedroom." 13 And he said, "Go and see where he is, that I may send and seize him." It was told him, "Behold, he is in Dothan." 14 So he sent there horses and chariots and a great army, and they came by night and surrounded the city.
15 When the servant of the man of God rose early in the morning and went out, behold, an army with horses and chariots was all around the city. And the servant said, "Alas, my master! What shall we do?" 16 He said, "Do not be afraid, for those who are with us are more than those who are with them." 17 Then Elisha prayed and said, "O LORD, please open his eyes that he may see." So the LORD opened the eyes of the young man, and he saw, and behold, the mountain was full of horses and chariots of fire all around Elisha. 18 And when the Syrians came down against him, Elisha prayed to the LORD and said, "Please strike this people with blindness." So he struck them with blindness in accordance with the prayer of Elisha. 19 And Elisha said to them, "This is not the way, and this is not the city. Follow me, and I will bring you to the man whom you seek." And he led them to Samaria.
20 As soon as they entered Samaria, Elisha said, "O LORD, open the eyes of these men, that they may see." So the LORD opened their eyes and they saw, and behold, they were in the midst of Samaria. 21 As soon as the king of Israel saw them, he said to Elisha, "My father, shall I strike them down? Shall I strike them down?" 22 He answered, "You shall not strike them down. Would you strike down those whom you have taken captive with your sword and with your bow? Set bread and water before them, that they may eat and drink and go to their master." 23 So he prepared for them a great feast, and when they had eaten and drunk, he sent them away, and they went to their master. And the Syrians did not come again on raids into the land of Israel.
(
A Song of Ascents. Of David.
124:1 If it had not been the LORD who was on our side—
let Israel now say—
2 if it had not been the LORD who was on our side
when people rose up against us,
3 then they would have swallowed us up alive,
when their anger was kindled against us;
4 then the flood would have swept us away,
the torrent would have gone over us;
5 then over us would have gone
the raging waters.
6 Blessed be the LORD,
who has not given us
as prey to their teeth!
7 We have escaped like a bird
from the snare of the fowlers;
the snare is broken,
and we have escaped!
8 Our help is in the name of the LORD,
who made heaven and earth.

(ESV)