Living The Anxious Life? (Matthew 6:24-34, Psalm 4:1-8)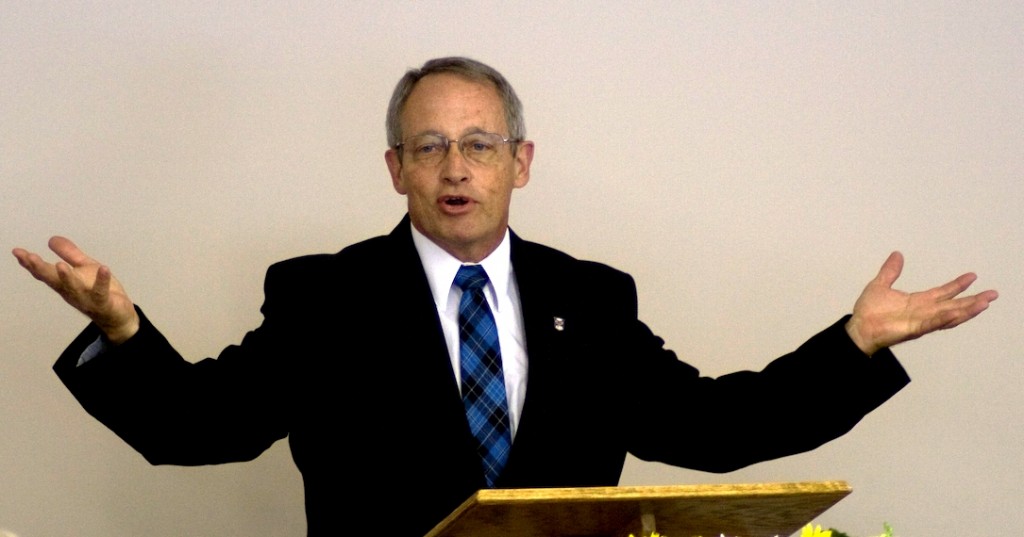 Rev. William L. Barron, November 12, 2023
Part of the
Morning Worship at North Greenville Church
series, preached at a
Sunday Morning
service
Why do we need to worry? God cares about all the things in our lives, even the little things in our lives. Whatever we eat or wear or need, God cares. God knows what he is doing. We must learn to trust in God and not our own possessions. We can never have enough possessions. Where is our security? Is it in our treasure? Is it here, or in heaven? God says, "Trust me." We can never store away enough things to meet the needs that we anticipate. Where is our security? Being thrifty is wise, but where is our security? Wealth will never bring about true happiness. When we trust things, we come up lacking. This is the health and wealth gospel which is false. These are the "thorny ground hearers" in the parable of the seeds (or the soils). Cares choke out the gospel in their lives. In Psalm 10, David writes, "those don't think of God. In all their thoughts, there is no God." Our practices much match our faithful testimonies. We must look to Jesus to provide for us. Worry is a moral problem. If we worry, our treasure is in the wrong place. How do I glorify God with my material things? If we concentrate on material things, we have the wrong master. Would we rather have Jesus than silver or gold? When we trust in Jesus, we become heavenly minded, applying our minds to things on earth and how we live, things such as witnessing, giving and so forth. These are heavenly treasures. You are united in Christ, and the Holy Spirit brings you understanding. In Romans 11, we see that the heavenly minded person thinks about these things--whatever is pure, just, lovely and honorable. We don't worry about what we should wear, eat, and so forth. We tend to follow our ancient parents; we try to be God. We must pray, "Teach us, O Lord, how not to worry." In verse 33 we see Jesus exhorting us to, "seek first the Kingdom of God." The Pharisees, on the other hand, were looking to their own righteousness. We need to seek the righteousness of Christ.
About Rev. William L. Barron:
Billy Barron is the pastor of North Greenville Church. He has pastored ARPC congregations in North and South Carolina and Florida. He has also been pastor to World Witness missionaries around the world. He was Mission Developer of Travelers ARP Church in Travelers Rest, SC.
Matthew 6:24–34 (Listen)
24 "No one can serve two masters, for either he will hate the one and love the other, or he will be devoted to the one and despise the other. You cannot serve God and money.
25 "Therefore I tell you, do not be anxious about your life, what you will eat or what you will drink, nor about your body, what you will put on. Is not life more than food, and the body more than clothing? 26 Look at the birds of the air: they neither sow nor reap nor gather into barns, and yet your heavenly Father feeds them. Are you not of more value than they? 27 And which of you by being anxious can add a single hour to his span of life? 28 And why are you anxious about clothing? Consider the lilies of the field, how they grow: they neither toil nor spin, 29 yet I tell you, even Solomon in all his glory was not arrayed like one of these. 30 But if God so clothes the grass of the field, which today is alive and tomorrow is thrown into the oven, will he not much more clothe you, O you of little faith? 31 Therefore do not be anxious, saying, 'What shall we eat?' or 'What shall we drink?' or 'What shall we wear?' 32 For the Gentiles seek after all these things, and your heavenly Father knows that you need them all. 33 But seek first the kingdom of God and his righteousness, and all these things will be added to you.
34 "Therefore do not be anxious about tomorrow, for tomorrow will be anxious for itself. Sufficient for the day is its own trouble.
(
To the choirmaster: with stringed instruments. A Psalm of David.
4:1 Answer me when I call, O God of my righteousness!
You have given me relief when I was in distress.
Be gracious to me and hear my prayer!
2 O men, how long shall my honor be turned into shame?
How long will you love vain words and seek after lies? Selah
3 But know that the LORD has set apart the godly for himself;
the LORD hears when I call to him.
4 Be angry, and do not sin;
ponder in your own hearts on your beds, and be silent. Selah
5 Offer right sacrifices,
and put your trust in the LORD.
6 There are many who say, "Who will show us some good?
Lift up the light of your face upon us, O LORD!"
7 You have put more joy in my heart
than they have when their grain and wine abound.
8 In peace I will both lie down and sleep;
for you alone, O LORD, make me dwell in safety.

(ESV)