Transitioning to the Next Life (Genesis 50:1-14, John 11:1-44)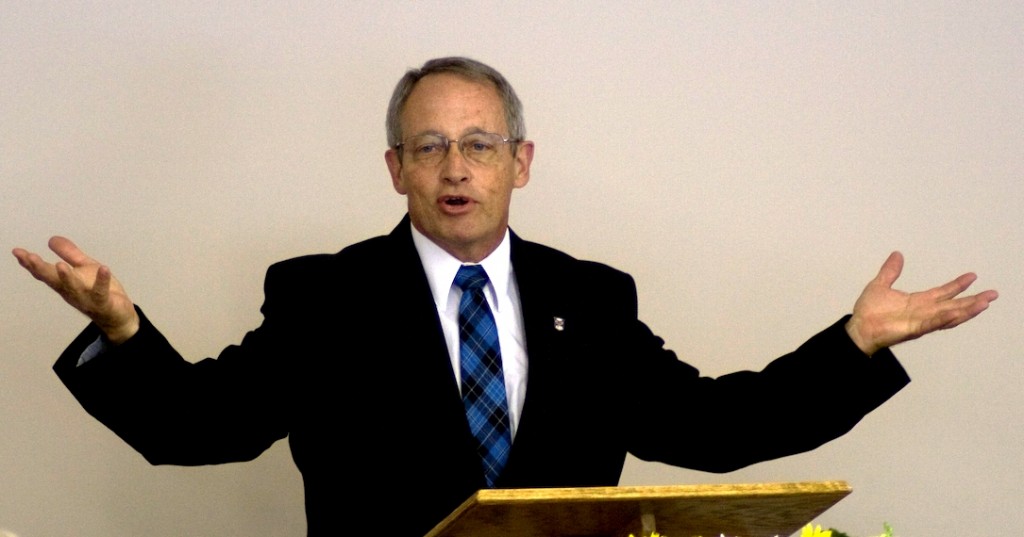 Rev. William L. Barron, July 12, 2020
Preached at a
Sunday Morning
service
For those that are in Christ, we do not grieve as those with no hope. We can look forward to a new life in the future because Jesus is the Resurrection and we are united with Him now. God gives life to our "dry bones" through the proclamation of the gospel.
About Rev. William L. Barron:
Billy Barron is the pastor of North Greenville Church. He has pastored ARPC congregations in North and South Carolina and Florida. He has also been pastor to World Witness missionaries around the world. He was Mission Developer of Travelers ARP Church in Travelers Rest, SC.
Genesis 50:1–14 (Listen)
50:1 Then Joseph fell on his father's face and wept over him and kissed him. 2 And Joseph commanded his servants the physicians to embalm his father. So the physicians embalmed Israel. 3 Forty days were required for it, for that is how many are required for embalming. And the Egyptians wept for him seventy days.
4 And when the days of weeping for him were past, Joseph spoke to the household of Pharaoh, saying, "If now I have found favor in your eyes, please speak in the ears of Pharaoh, saying, 5 'My father made me swear, saying, "I am about to die: in my tomb that I hewed out for myself in the land of Canaan, there shall you bury me." Now therefore, let me please go up and bury my father. Then I will return.'" 6 And Pharaoh answered, "Go up, and bury your father, as he made you swear." 7 So Joseph went up to bury his father. With him went up all the servants of Pharaoh, the elders of his household, and all the elders of the land of Egypt, 8 as well as all the household of Joseph, his brothers, and his father's household. Only their children, their flocks, and their herds were left in the land of Goshen. 9 And there went up with him both chariots and horsemen. It was a very great company. 10 When they came to the threshing floor of Atad, which is beyond the Jordan, they lamented there with a very great and grievous lamentation, and he made a mourning for his father seven days. 11 When the inhabitants of the land, the Canaanites, saw the mourning on the threshing floor of Atad, they said, "This is a grievous mourning by the Egyptians." Therefore the place was named Abel-mizraim; it is beyond the Jordan. 12 Thus his sons did for him as he had commanded them, 13 for his sons carried him to the land of Canaan and buried him in the cave of the field at Machpelah, to the east of Mamre, which Abraham bought with the field from Ephron the Hittite to possess as a burying place. 14 After he had buried his father, Joseph returned to Egypt with his brothers and all who had gone up with him to bury his father.
(
John 11:1–44 (Listen)
11:1 Now a certain man was ill, Lazarus of Bethany, the village of Mary and her sister Martha. 2 It was Mary who anointed the Lord with ointment and wiped his feet with her hair, whose brother Lazarus was ill. 3 So the sisters sent to him, saying, "Lord, he whom you love is ill." 4 But when Jesus heard it he said, "This illness does not lead to death. It is for the glory of God, so that the Son of God may be glorified through it."
5 Now Jesus loved Martha and her sister and Lazarus. 6 So, when he heard that Lazarus was ill, he stayed two days longer in the place where he was. 7 Then after this he said to the disciples, "Let us go to Judea again." 8 The disciples said to him, "Rabbi, the Jews were just now seeking to stone you, and are you going there again?" 9 Jesus answered, "Are there not twelve hours in the day? If anyone walks in the day, he does not stumble, because he sees the light of this world. 10 But if anyone walks in the night, he stumbles, because the light is not in him." 11 After saying these things, he said to them, "Our friend Lazarus has fallen asleep, but I go to awaken him." 12 The disciples said to him, "Lord, if he has fallen asleep, he will recover." 13 Now Jesus had spoken of his death, but they thought that he meant taking rest in sleep. 14 Then Jesus told them plainly, "Lazarus has died, 15 and for your sake I am glad that I was not there, so that you may believe. But let us go to him." 16 So Thomas, called the Twin, said to his fellow disciples, "Let us also go, that we may die with him."
17 Now when Jesus came, he found that Lazarus had already been in the tomb four days. 18 Bethany was near Jerusalem, about two miles off, 19 and many of the Jews had come to Martha and Mary to console them concerning their brother. 20 So when Martha heard that Jesus was coming, she went and met him, but Mary remained seated in the house. 21 Martha said to Jesus, "Lord, if you had been here, my brother would not have died. 22 But even now I know that whatever you ask from God, God will give you." 23 Jesus said to her, "Your brother will rise again." 24 Martha said to him, "I know that he will rise again in the resurrection on the last day." 25 Jesus said to her, "I am the resurrection and the life. Whoever believes in me, though he die, yet shall he live, 26 and everyone who lives and believes in me shall never die. Do you believe this?" 27 She said to him, "Yes, Lord; I believe that you are the Christ, the Son of God, who is coming into the world."
28 When she had said this, she went and called her sister Mary, saying in private, "The Teacher is here and is calling for you." 29 And when she heard it, she rose quickly and went to him. 30 Now Jesus had not yet come into the village, but was still in the place where Martha had met him. 31 When the Jews who were with her in the house, consoling her, saw Mary rise quickly and go out, they followed her, supposing that she was going to the tomb to weep there. 32 Now when Mary came to where Jesus was and saw him, she fell at his feet, saying to him, "Lord, if you had been here, my brother would not have died." 33 When Jesus saw her weeping, and the Jews who had come with her also weeping, he was deeply moved in his spirit and greatly troubled. 34 And he said, "Where have you laid him?" They said to him, "Lord, come and see." 35 Jesus wept. 36 So the Jews said, "See how he loved him!" 37 But some of them said, "Could not he who opened the eyes of the blind man also have kept this man from dying?"
38 Then Jesus, deeply moved again, came to the tomb. It was a cave, and a stone lay against it. 39 Jesus said, "Take away the stone." Martha, the sister of the dead man, said to him, "Lord, by this time there will be an odor, for he has been dead four days." 40 Jesus said to her, "Did I not tell you that if you believed you would see the glory of God?" 41 So they took away the stone. And Jesus lifted up his eyes and said, "Father, I thank you that you have heard me. 42 I knew that you always hear me, but I said this on account of the people standing around, that they may believe that you sent me." 43 When he had said these things, he cried out with a loud voice, "Lazarus, come out." 44 The man who had died came out, his hands and feet bound with linen strips, and his face wrapped with a cloth. Jesus said to them, "Unbind him, and let him go."
(ESV)