The Miraculous Birth Of Jesus (Matthew 1:18-25, Isaiah 7:1-17)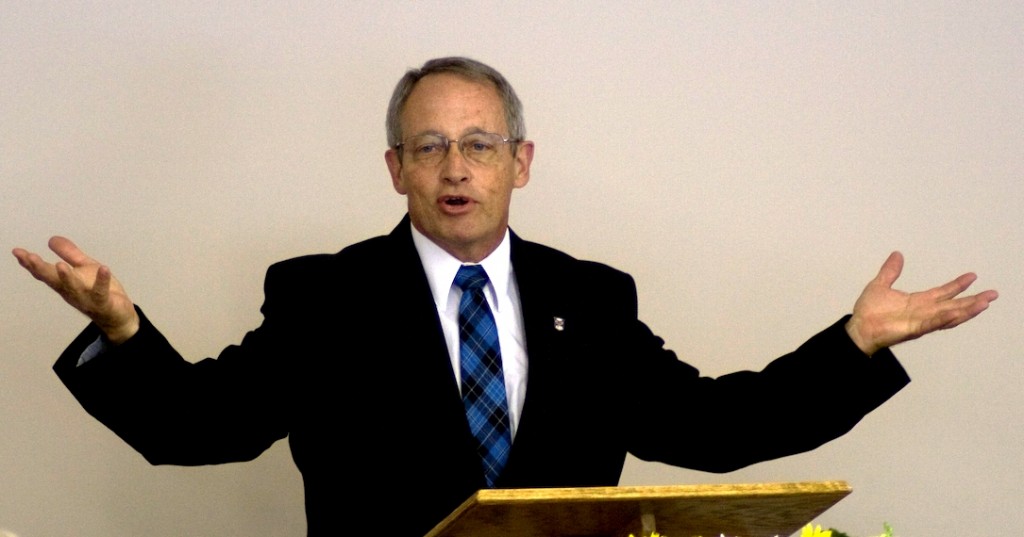 Rev. William L. Barron, November 29, 2020
Preached at a
Sunday Morning
service
The intended audience of Matthew is Jewish. He reminds his audience of what they read in the book of the prophet Isaiah, about King Ahaz. This king was entering into an ill-advised alliance with the Assyrian Empire against Israel and Syria. Isaiah called on Ahaz to ask God for a sign. Ahaz's response indicates his opinion that he didn't care what God said. The command was to trust in God's providence and sovereignty in all things. The sign was the virgin birth of the Redeemer, Jesus Christ. As this came to pass in Matthew's Gospel, Joseph, as a righteousness man, was resolved to put Mary away. However, God intervened with a more just plan. Joseph abandoned his own course of action and agreed to wed Mary. Since God's plans are always above our own ways, we ask ourselves if we are ready to stand with God in the face of public ridicule. God gave the child to be two names: Immanuel (the pre-existant Messiah, fully God becoming fully man) and Jesus (same as Joshua, savior). The Lord's Supper comprises tangible gifts and signs; what God has done and how He is with us. The Feast affirms God's sovereign control over all things. We come together in His name affirming, unlike King Ahaz, that we stand with God and not against Him.
About Rev. William L. Barron:
Billy Barron is the pastor of North Greenville Church. He has pastored ARPC congregations in North and South Carolina and Florida. He has also been pastor to World Witness missionaries around the world. He was Mission Developer of Travelers ARP Church in Travelers Rest, SC.
Matthew 1:18–25 (Listen)
18 Now the birth of Jesus Christ took place in this way. When his mother Mary had been betrothed to Joseph, before they came together she was found to be with child from the Holy Spirit. 19 And her husband Joseph, being a just man and unwilling to put her to shame, resolved to divorce her quietly. 20 But as he considered these things, behold, an angel of the Lord appeared to him in a dream, saying, "Joseph, son of David, do not fear to take Mary as your wife, for that which is conceived in her is from the Holy Spirit. 21 She will bear a son, and you shall call his name Jesus, for he will save his people from their sins." 22 All this took place to fulfill what the Lord had spoken by the prophet:
23 "Behold, the virgin shall conceive and bear a son,
and they shall call his name Immanuel"

(which means, God with us). 24 When Joseph woke from sleep, he did as the angel of the Lord commanded him: he took his wife, 25 but knew her not until she had given birth to a son. And he called his name Jesus.
(
Isaiah 7:1–17 (Listen)
7:1 In the days of Ahaz the son of Jotham, son of Uzziah, king of Judah, Rezin the king of Syria and Pekah the son of Remaliah the king of Israel came up to Jerusalem to wage war against it, but could not yet mount an attack against it. 2 When the house of David was told, "Syria is in league with Ephraim," the heart of Ahaz and the heart of his people shook as the trees of the forest shake before the wind.
3 And the LORD said to Isaiah, "Go out to meet Ahaz, you and Shear-jashub your son, at the end of the conduit of the upper pool on the highway to the Washer's Field. 4 And say to him, 'Be careful, be quiet, do not fear, and do not let your heart be faint because of these two smoldering stumps of firebrands, at the fierce anger of Rezin and Syria and the son of Remaliah. 5 Because Syria, with Ephraim and the son of Remaliah, has devised evil against you, saying, 6 "Let us go up against Judah and terrify it, and let us conquer it for ourselves, and set up the son of Tabeel as king in the midst of it," 7 thus says the Lord GOD:
"'It shall not stand,
and it shall not come to pass.
8 For the head of Syria is Damascus,
and the head of Damascus is Rezin.
And within sixty-five years
Ephraim will be shattered from being a people.
9 And the head of Ephraim is Samaria,
and the head of Samaria is the son of Remaliah.
If you are not firm in faith,
you will not be firm at all.'"

10 Again the LORD spoke to Ahaz: 11 "Ask a sign of the LORD your God; let it be deep as Sheol or high as heaven." 12 But Ahaz said, "I will not ask, and I will not put the LORD to the test." 13 And he said, "Hear then, O house of David! Is it too little for you to weary men, that you weary my God also? 14 Therefore the Lord himself will give you a sign. Behold, the virgin shall conceive and bear a son, and shall call his name Immanuel. 15 He shall eat curds and honey when he knows how to refuse the evil and choose the good. 16 For before the boy knows how to refuse the evil and choose the good, the land whose two kings you dread will be deserted. 17 The LORD will bring upon you and upon your people and upon your father's house such days as have not come since the day that Ephraim departed from Judah—the king of Assyria!"
(ESV)