Come And See (John 1:35-51, Genesis 28:10-17)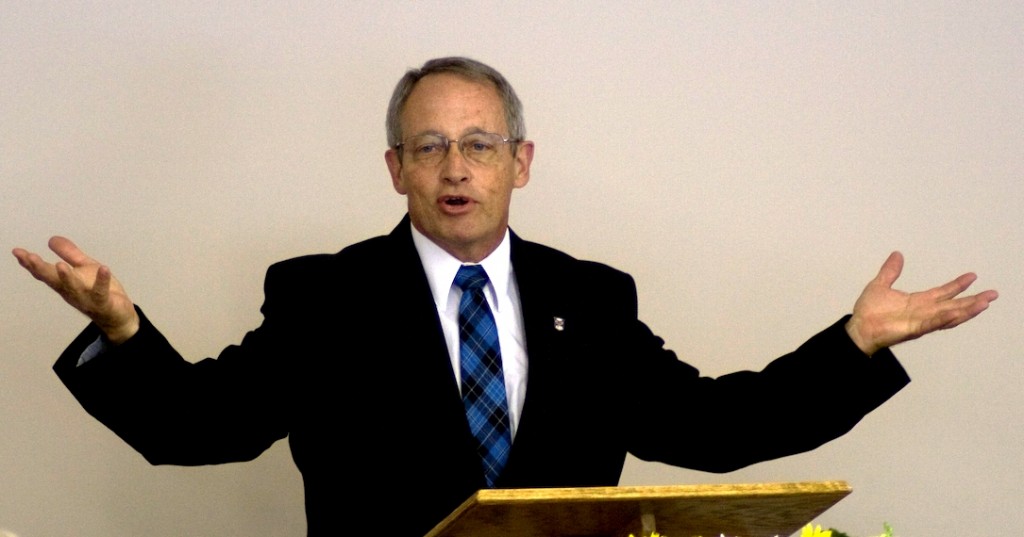 Rev. William L. Barron, December 27, 2020
Preached at a
Sunday Morning
service
Jesus' ministry began not with preaching to multitudes; rather to small groups. Individuals then called on others to "come and see," one by one. Andrew found his brother Peter, and Philip found Nathaniel. We need both large and small churches even to this day. To both goes the command to make disciples. We must all pass on what we have learned about becoming transformed. Imagine what would have happened if Andrew hadn't found Peter. What about Philip finding Nathaniel/Bartholomew? We should ask ourselves who we need to go and find. This is the heart of evangelism. The church can expand in geometrical progression if we are obedient to this call. Jesus knew that Nathaniel was most likely reading scriptures under the fig tree. It seems he was reading Genesis 28 about Jacob at what became Bethel. Jesus draws a contrast between Jacob (the deceiver) and Nathaniel (without deceit or guile), showing Nathaniel that he not only knew about the fig tree, but also exactly what he was reading beneath it. In John 14, we later see that Jesus is the way, the truth and the light, the very ladder to heaven. Today, we do not need visions, since we have the Word, but angels are still involved in the workings of God and his people. We are commanded to invite people to come and see. We are likely not going to convince anyone, but we can put the seed out to be watered by other means. We are challenged to be Andrews and Phillips. We should pray for God to show us people who need the Messiah, or a church or a fellowship. When God does this, we pray that we will open our mouths and speak. We can invite, share scriptures and actually bring people to worship.
About Rev. William L. Barron:
Billy Barron is the pastor of North Greenville Church. He has pastored ARPC congregations in North and South Carolina and Florida. He has also been pastor to World Witness missionaries around the world. He was Mission Developer of Travelers ARP Church in Travelers Rest, SC.
John 1:35–51 (Listen)
35 The next day again John was standing with two of his disciples, 36 and he looked at Jesus as he walked by and said, "Behold, the Lamb of God!" 37 The two disciples heard him say this, and they followed Jesus. 38 Jesus turned and saw them following and said to them, "What are you seeking?" And they said to him, "Rabbi" (which means Teacher), "where are you staying?" 39 He said to them, "Come and you will see." So they came and saw where he was staying, and they stayed with him that day, for it was about the tenth hour. 40 One of the two who heard John speak and followed Jesus was Andrew, Simon Peter's brother. 41 He first found his own brother Simon and said to him, "We have found the Messiah" (which means Christ). 42 He brought him to Jesus. Jesus looked at him and said, "You are Simon the son of John. You shall be called Cephas" (which means Peter).
43 The next day Jesus decided to go to Galilee. He found Philip and said to him, "Follow me." 44 Now Philip was from Bethsaida, the city of Andrew and Peter. 45 Philip found Nathanael and said to him, "We have found him of whom Moses in the Law and also the prophets wrote, Jesus of Nazareth, the son of Joseph." 46 Nathanael said to him, "Can anything good come out of Nazareth?" Philip said to him, "Come and see." 47 Jesus saw Nathanael coming toward him and said of him, "Behold, an Israelite indeed, in whom there is no deceit!" 48 Nathanael said to him, "How do you know me?" Jesus answered him, "Before Philip called you, when you were under the fig tree, I saw you." 49 Nathanael answered him, "Rabbi, you are the Son of God! You are the King of Israel!" 50 Jesus answered him, "Because I said to you, 'I saw you under the fig tree,' do you believe? You will see greater things than these." 51 And he said to him, "Truly, truly, I say to you, you will see heaven opened, and the angels of God ascending and descending on the Son of Man."
(
Genesis 28:10–17 (Listen)
10 Jacob left Beersheba and went toward Haran. 11 And he came to a certain place and stayed there that night, because the sun had set. Taking one of the stones of the place, he put it under his head and lay down in that place to sleep. 12 And he dreamed, and behold, there was a ladder set up on the earth, and the top of it reached to heaven. And behold, the angels of God were ascending and descending on it! 13 And behold, the LORD stood above it and said, "I am the LORD, the God of Abraham your father and the God of Isaac. The land on which you lie I will give to you and to your offspring. 14 Your offspring shall be like the dust of the earth, and you shall spread abroad to the west and to the east and to the north and to the south, and in you and your offspring shall all the families of the earth be blessed. 15 Behold, I am with you and will keep you wherever you go, and will bring you back to this land. For I will not leave you until I have done what I have promised you." 16 Then Jacob awoke from his sleep and said, "Surely the LORD is in this place, and I did not know it." 17 And he was afraid and said, "How awesome is this place! This is none other than the house of God, and this is the gate of heaven."
(ESV)