Do Not Receive The Grace Of God In Vain (2 Corinthians 6:1-13, Isaiah 49:7-13)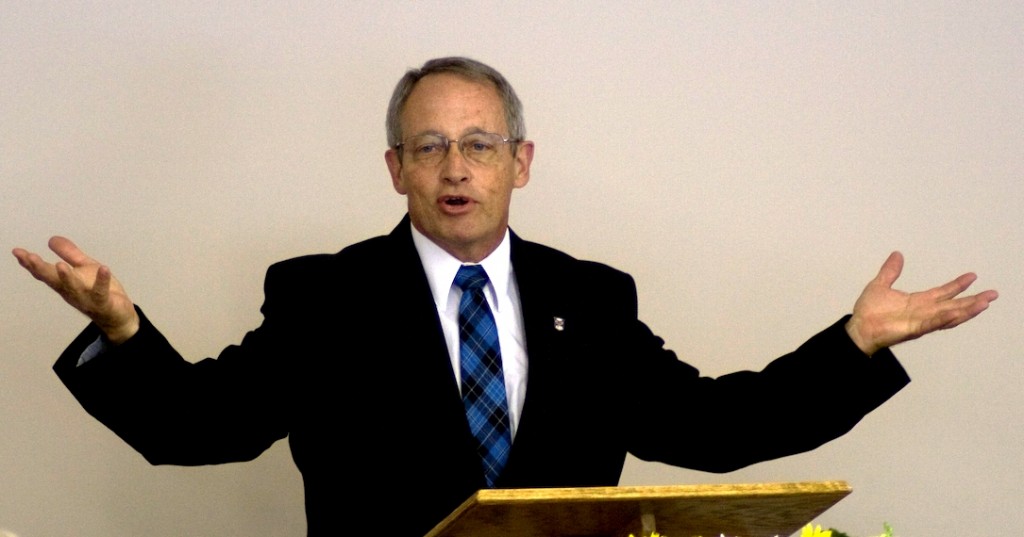 Rev. William L. Barron, January 3, 2021
Preached at a
Sunday Morning
service
We recall from previous sermons in this series that Paul talks about various ministries given to believers; one of these is the ministry of reconciliation. Although Paul endured much suffering, he was criticized as not being a true apostle. His critics reasoned that if he were a real apostle and lived under God's favor, he would have prospered and not been constantly persecuted and punished. However, we know that Paul's sufferings demonstrated that he was indeed Jesus' apostle. His endurance demonstrates to us his faith in the Truth. We should make sure that we do not receive our faith in vain. Paul quotes the prophet Isaiah, who warned that if we don't put our faith into practice, our faith is in vain. The application to us is that we know the information, the Truth of Scripture and the meaning of the Gospel. Now, do we have the trust that blooms into faith? If so, our practice follows in obedience to Jesus' commands. We need to live our our righteousness in Christ, living the Christian life before people. If we find ourselves living the ways of the world, we should question our own salvation. We must put before a watching world the message to hear God's call to trust in Christ and respond to God's reconciling grace. Paul, an educated and privileged Jew, became a bondservant of Christ, with no regrets for the persecution that followed. Our emotions are not the main thing; neither is logic. They fit together; emotion give us the drive to live our our faith. Jesus expressed deep emotion on the Mount of Olives over the people's rejection of God's Messiah. Paul wanted many to experience the same reconciliation he had received. He emphasized a simple Gospel, yet he was a true apostle and highly educated.
About Rev. William L. Barron:
Billy Barron is the pastor of North Greenville Church. He has pastored ARPC congregations in North and South Carolina and Florida. He has also been pastor to World Witness missionaries around the world. He was Mission Developer of Travelers ARP Church in Travelers Rest, SC.
2 Corinthians 6:1–13 (Listen)
6:1 Working together with him, then, we appeal to you not to receive the grace of God in vain. 2 For he says,
"In a favorable time I listened to you,
and in a day of salvation I have helped you."

Behold, now is the favorable time; behold, now is the day of salvation. 3 We put no obstacle in anyone's way, so that no fault may be found with our ministry, 4 but as servants of God we commend ourselves in every way: by great endurance, in afflictions, hardships, calamities, 5 beatings, imprisonments, riots, labors, sleepless nights, hunger; 6 by purity, knowledge, patience, kindness, the Holy Spirit, genuine love; 7 by truthful speech, and the power of God; with the weapons of righteousness for the right hand and for the left; 8 through honor and dishonor, through slander and praise. We are treated as impostors, and yet are true; 9 as unknown, and yet well known; as dying, and behold, we live; as punished, and yet not killed; 10 as sorrowful, yet always rejoicing; as poor, yet making many rich; as having nothing, yet possessing everything.
11 We have spoken freely to you, Corinthians; our heart is wide open. 12 You are not restricted by us, but you are restricted in your own affections. 13 In return (I speak as to children) widen your hearts also.
(
Isaiah 49:7–13 (Listen)
7 Thus says the LORD,
the Redeemer of Israel and his Holy One,
to one deeply despised, abhorred by the nation,
the servant of rulers:
"Kings shall see and arise;
princes, and they shall prostrate themselves;
because of the LORD, who is faithful,
the Holy One of Israel, who has chosen you."

8 Thus says the LORD:
"In a time of favor I have answered you;
in a day of salvation I have helped you;
I will keep you and give you
as a covenant to the people,
to establish the land,
to apportion the desolate heritages,
9 saying to the prisoners, 'Come out,'
to those who are in darkness, 'Appear.'
They shall feed along the ways;
on all bare heights shall be their pasture;
10 they shall not hunger or thirst,
neither scorching wind nor sun shall strike them,
for he who has pity on them will lead them,
and by springs of water will guide them.
11 And I will make all my mountains a road,
and my highways shall be raised up.
12 Behold, these shall come from afar,
and behold, these from the north and from the west,
and these from the land of Syene."
13 Sing for joy, O heavens, and exult, O earth;
break forth, O mountains, into singing!
For the LORD has comforted his people
and will have compassion on his afflicted.

(ESV)