Life In The Church: The Way It Is Meant To Be (Hebrews 10:19-25, Deuteronomy 5:6-21)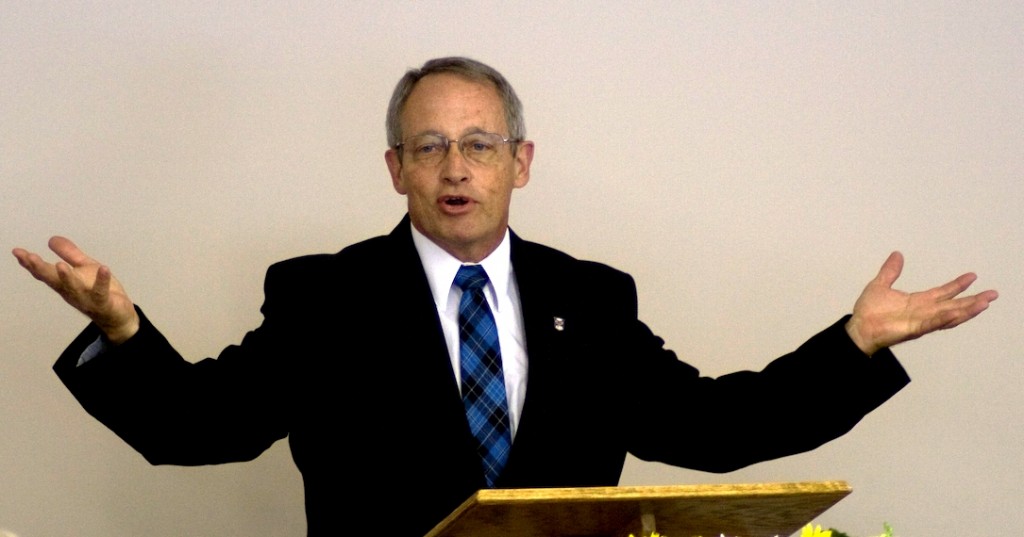 Rev. William L. Barron, November 14, 2021
Preached at a
Sunday Morning
service
Today we focus on the presence of God in our lives, as we reflect who we are as God's people. We are to worship Him as He commands. Nothing we can make with our hands can reflect God's glory. Right worship is essential if we are to grow in righteousness. We must be careful about claiming that we are providentially hindered from attending worship. Worship should be the most important thing in our lives, as we live out the command to draw near to Him. Worship helps us to hold fast to our confession of hope, without wavering, based on God's promises, especially concerning Christ's return. We are told that if we trust in God, difficulties will come. Yet Jesus will return, and God has set the time. God is truly faithful; can we trust Him? Do we worry? Worry is a sin of not trusting God. Also, as a body, we must consider how to encourage one another and to incite each other to love and good works. This love is self-giving love. When we gather to worship, we are not merely sitting in a building. We are to present ourselves as living sacrifices, living for Christ, since we are children of God by faith. We worship as a spiritual fellowship, sharing what the Lord has done in our lives. We must be ready to reach out to those who are facing difficulties, whether with food, financial help, repairs, marriage difficulties or challenges with children. Faith, hope and love must be the marks of our fellowship.
About Rev. William L. Barron:
Billy Barron is the pastor of North Greenville Church. He has pastored ARPC congregations in North and South Carolina and Florida. He has also been pastor to World Witness missionaries around the world. He was Mission Developer of Travelers ARP Church in Travelers Rest, SC.
Hebrews 10:19–25 (Listen)
19 Therefore, brothers, since we have confidence to enter the holy places by the blood of Jesus, 20 by the new and living way that he opened for us through the curtain, that is, through his flesh, 21 and since we have a great priest over the house of God, 22 let us draw near with a true heart in full assurance of faith, with our hearts sprinkled clean from an evil conscience and our bodies washed with pure water. 23 Let us hold fast the confession of our hope without wavering, for he who promised is faithful. 24 And let us consider how to stir up one another to love and good works, 25 not neglecting to meet together, as is the habit of some, but encouraging one another, and all the more as you see the Day drawing near.
(
Deuteronomy 5:6–21 (Listen)
6 "'I am the LORD your God, who brought you out of the land of Egypt, out of the house of slavery.
7 "'You shall have no other gods before me.
8 "'You shall not make for yourself a carved image, or any likeness of anything that is in heaven above, or that is on the earth beneath, or that is in the water under the earth. 9 You shall not bow down to them or serve them; for I the LORD your God am a jealous God, visiting the iniquity of the fathers on the children to the third and fourth generation of those who hate me, 10 but showing steadfast love to thousands of those who love me and keep my commandments.
11 "'You shall not take the name of the LORD your God in vain, for the LORD will not hold him guiltless who takes his name in vain.
12 "'Observe the Sabbath day, to keep it holy, as the LORD your God commanded you. 13 Six days you shall labor and do all your work, 14 but the seventh day is a Sabbath to the LORD your God. On it you shall not do any work, you or your son or your daughter or your male servant or your female servant, or your ox or your donkey or any of your livestock, or the sojourner who is within your gates, that your male servant and your female servant may rest as well as you. 15 You shall remember that you were a slave in the land of Egypt, and the LORD your God brought you out from there with a mighty hand and an outstretched arm. Therefore the LORD your God commanded you to keep the Sabbath day.
16 "'Honor your father and your mother, as the LORD your God commanded you, that your days may be long, and that it may go well with you in the land that the LORD your God is giving you.
17 "'You shall not murder.
18 "'And you shall not commit adultery.
19 "'And you shall not steal.
20 "'And you shall not bear false witness against your neighbor.
21 "'And you shall not covet your neighbor's wife. And you shall not desire your neighbor's house, his field, or his male servant, or his female servant, his ox, or his donkey, or anything that is your neighbor's.'
(ESV)