The Only Begotten From God (Galatians 3:29-4:16, Jeremiah 31:27-37)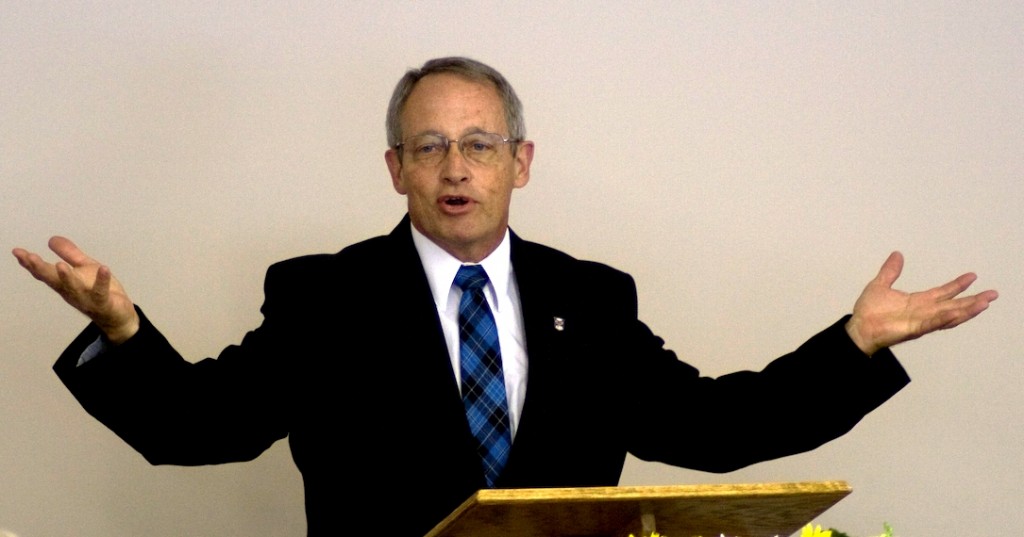 Rev. William L. Barron, September 11, 2022
Preached at a
Sunday Morning
service
It is important to understand the nature of the heir. Heirs come by genealogy and also by adoption. If you are in Christ, you are an heir of Abraham. An heir is under guardianship. The heir is a sort of slave. Before you were a believers, you were captured by your sin, as slaves. You could not free yourself. The Galatians were believers, but outsiders had come in preaching a different gospel. Paul told them to realize what they had under the true gospel. All of what we have is from God. The people had been extremely devoted to Paul and his teaching. Paul's thorn in the flesh was to keep him devoted to Christ. Paul was simply a messenger, calling the people to hold onto the true faith. We need to see the importance of our callings. We are not complete if we are not doing God's calling to us. It is important to understand the covenant of redemption and the functions of the triune God in salvation. In vss. 4 and 5, Paul presents the timing. The fullness of time means the march of history that prepared the ancient world for the spread of the gospel. Communication, transportation and language were all involved. God's timing for the advent of the Savior was perfect. We also see the sending of the Son by the Father. "Only begotten" needs some explanation. Begotten is a theological term. He was eternally of the Father, but sent forth in the fullness of time. His birth was of a woman, but his conception was by the Holy Spirit. He is sinless; fully God and fully man. He was born under the law and became sin for us, for our redemption, making us heirs of the covenant.
About Rev. William L. Barron:
Billy Barron is the pastor of North Greenville Church. He has pastored ARPC congregations in North and South Carolina and Florida. He has also been pastor to World Witness missionaries around the world. He was Mission Developer of Travelers ARP Church in Travelers Rest, SC.
Galatians 3:29–4:16 (Listen)
29 And if you are Christ's, then you are Abraham's offspring, heirs according to promise.
4:1 I mean that the heir, as long as he is a child, is no different from a slave, though he is the owner of everything, 2 but he is under guardians and managers until the date set by his father. 3 In the same way we also, when we were children, were enslaved to the elementary principles of the world. 4 But when the fullness of time had come, God sent forth his Son, born of woman, born under the law, 5 to redeem those who were under the law, so that we might receive adoption as sons. 6 And because you are sons, God has sent the Spirit of his Son into our hearts, crying, "Abba! Father!" 7 So you are no longer a slave, but a son, and if a son, then an heir through God.
8 Formerly, when you did not know God, you were enslaved to those that by nature are not gods. 9 But now that you have come to know God, or rather to be known by God, how can you turn back again to the weak and worthless elementary principles of the world, whose slaves you want to be once more? 10 You observe days and months and seasons and years! 11 I am afraid I may have labored over you in vain.
12 Brothers, I entreat you, become as I am, for I also have become as you are. You did me no wrong. 13 You know it was because of a bodily ailment that I preached the gospel to you at first, 14 and though my condition was a trial to you, you did not scorn or despise me, but received me as an angel of God, as Christ Jesus. 15 What then has become of your blessedness? For I testify to you that, if possible, you would have gouged out your eyes and given them to me. 16 Have I then become your enemy by telling you the truth?
(
Jeremiah 31:27–37 (Listen)
27 "Behold, the days are coming, declares the LORD, when I will sow the house of Israel and the house of Judah with the seed of man and the seed of beast. 28 And it shall come to pass that as I have watched over them to pluck up and break down, to overthrow, destroy, and bring harm, so I will watch over them to build and to plant, declares the LORD. 29 In those days they shall no longer say:
"'The fathers have eaten sour grapes,
and the children's teeth are set on edge.'

30 But everyone shall die for his own iniquity. Each man who eats sour grapes, his teeth shall be set on edge.
31 "Behold, the days are coming, declares the LORD, when I will make a new covenant with the house of Israel and the house of Judah, 32 not like the covenant that I made with their fathers on the day when I took them by the hand to bring them out of the land of Egypt, my covenant that they broke, though I was their husband, declares the LORD. 33 For this is the covenant that I will make with the house of Israel after those days, declares the LORD: I will put my law within them, and I will write it on their hearts. And I will be their God, and they shall be my people. 34 And no longer shall each one teach his neighbor and each his brother, saying, 'Know the LORD,' for they shall all know me, from the least of them to the greatest, declares the LORD. For I will forgive their iniquity, and I will remember their sin no more."
35 Thus says the LORD,
who gives the sun for light by day
and the fixed order of the moon and the stars for light by night,
who stirs up the sea so that its waves roar—
the LORD of hosts is his name:
36 "If this fixed order departs
from before me, declares the LORD,
then shall the offspring of Israel cease
from being a nation before me forever."
37 Thus says the LORD:
"If the heavens above can be measured,
and the foundations of the earth below can be explored,
then I will cast off all the offspring of Israel
for all that they have done,
declares the LORD."

(ESV)