Bond or Free (Galatians 4:16-31, Jonah 3:1-4:1)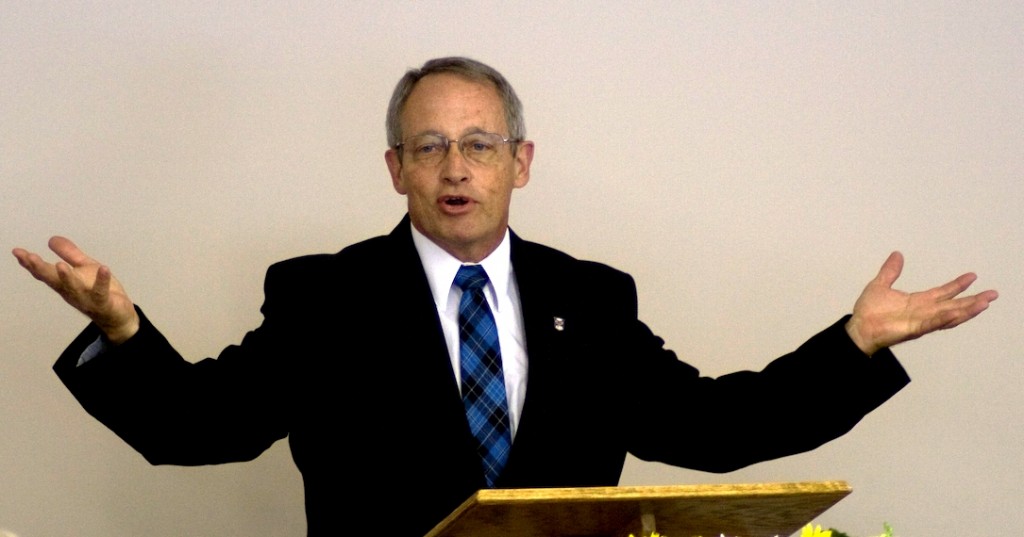 Rev. William L. Barron, September 18, 2022
Preached at a
Sunday Morning
service
Paul asks the Galatians whether they are now enemies of Paul. He asks if he needs to start all over with the presentation of the gospel. Paul's heart was broken, as was Jesus' when he arrived at Jerusalem. There was a sense of urgency with Jonah and Ninevah, with Jesus and Jerusalem and now with Paul and Galatia; judgment is near. There were Jewish agitators denying the promise to the gentiles. Isaac and Ishmael serve as Paul's example concerning bondage and freedom. Abraham received a series of covenant promises. Abraham believed and trusted. Ishmael was the first, of Hagar. Isaac was the second, of Sarah. One borne of a free woman, Sarah; one of a slave, Hagar. Sarah's motherhood was miraculous because of her advanced age. Isaac was the child of the promise. The Galatian agitators were preaching works righteousness leading to salvation, denying salvation by faith alone. Are we following tradition, fads or popular opinions; or are we following what God says? Paul presents an allegorical representation. He points to two covenants: Abraham and Moses. The covenant of Moses does not supersede the covenant of Abraham. All covenants are building on one another and are fulfilled in the new covenant. The third purpose of the law, how we are to live, does not replace the first purpose, to show us that we are sinners and need Christ, our redeemer. The law commands us to trust in Christ.
About Rev. William L. Barron:
Billy Barron is the pastor of North Greenville Church. He has pastored ARPC congregations in North and South Carolina and Florida. He has also been pastor to World Witness missionaries around the world. He was Mission Developer of Travelers ARP Church in Travelers Rest, SC.
Galatians 4:16–31 (Listen)
16 Have I then become your enemy by telling you the truth? 17 They make much of you, but for no good purpose. They want to shut you out, that you may make much of them. 18 It is always good to be made much of for a good purpose, and not only when I am present with you, 19 my little children, for whom I am again in the anguish of childbirth until Christ is formed in you! 20 I wish I could be present with you now and change my tone, for I am perplexed about you.
21 Tell me, you who desire to be under the law, do you not listen to the law? 22 For it is written that Abraham had two sons, one by a slave woman and one by a free woman. 23 But the son of the slave was born according to the flesh, while the son of the free woman was born through promise. 24 Now this may be interpreted allegorically: these women are two covenants. One is from Mount Sinai, bearing children for slavery; she is Hagar. 25 Now Hagar is Mount Sinai in Arabia; she corresponds to the present Jerusalem, for she is in slavery with her children. 26 But the Jerusalem above is free, and she is our mother. 27 For it is written,
"Rejoice, O barren one who does not bear;
break forth and cry aloud, you who are not in labor!
For the children of the desolate one will be more
than those of the one who has a husband."

28 Now you, brothers, like Isaac, are children of promise. 29 But just as at that time he who was born according to the flesh persecuted him who was born according to the Spirit, so also it is now. 30 But what does the Scripture say? "Cast out the slave woman and her son, for the son of the slave woman shall not inherit with the son of the free woman." 31 So, brothers, we are not children of the slave but of the free woman.
(
Jonah 3–4:1 (Listen)
3:1 Then the word of the LORD came to Jonah the second time, saying, 2 "Arise, go to Nineveh, that great city, and call out against it the message that I tell you." 3 So Jonah arose and went to Nineveh, according to the word of the LORD. Now Nineveh was an exceedingly great city, three days' journey in breadth. 4 Jonah began to go into the city, going a day's journey. And he called out, "Yet forty days, and Nineveh shall be overthrown!" 5 And the people of Nineveh believed God. They called for a fast and put on sackcloth, from the greatest of them to the least of them.
6 The word reached the king of Nineveh, and he arose from his throne, removed his robe, covered himself with sackcloth, and sat in ashes. 7 And he issued a proclamation and published through Nineveh, "By the decree of the king and his nobles: Let neither man nor beast, herd nor flock, taste anything. Let them not feed or drink water, 8 but let man and beast be covered with sackcloth, and let them call out mightily to God. Let everyone turn from his evil way and from the violence that is in his hands. 9 Who knows? God may turn and relent and turn from his fierce anger, so that we may not perish."
10 When God saw what they did, how they turned from their evil way, God relented of the disaster that he had said he would do to them, and he did not do it.
4:1 But it displeased Jonah exceedingly, and he was angry.
(ESV)