Why The Resurrection? (Mark 16:1-13, Exodus 33:18-34:8)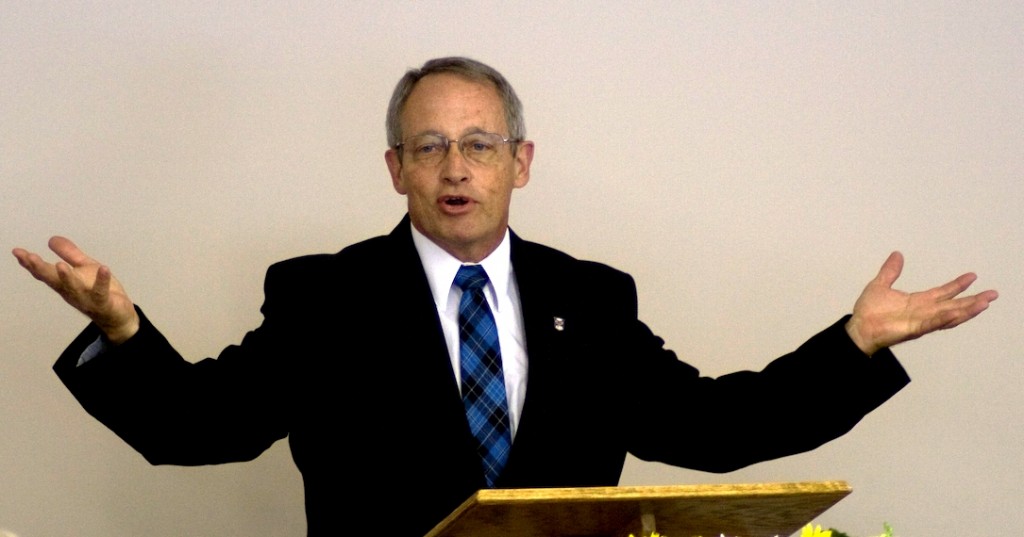 Rev. William L. Barron, April 4, 2021
Preached at a
Sunday Morning
service
At Sinai, Moses wanted to know more about God. He had encountered Him at the burning bush. God's response was that Moses could not see or bear to see God's glory, so God showed Moses His goodness. What is good? Good is an attribute of God. God protected Moses in the cleft of the rock. Likewise, we need God's protection. Moses saw God's back, which was a manifestation of His goodness. We remember in Luke 18, the young man addressed Jesus as "good teacher." Jesus' response was that no one but God is good. Like Moses, we can't bear to see God's glory, but we can see His good works, the results of His working in the world. On Sinai, God replaced the tables of the Law that Moses broke. In His passing by, He proclaimed His attributes in the tables. Theologians impress upon us the simplicity of God. He is One, and He is merciful and compassionate. He gives us what we do not deserve. All redeemed sinners are equal before Him. In His grace are care, protection and providence. He keeps His promises in accordance with His covenant faithfulness. He is longsuffering, or patient and not hasty to exact vengeance. We do not have to provoke God to love us; we must be provoked in order to love. God is forgiving, of wickedness or iniquity, of transgressions against Him, and of sin, important because we are sinners by nature. The resurrection proclaims Jesus as the eternal Son of God, who became man for us and was crucified as a substitute in our place, for the guilt of our sins. In His death and resurrection, He ransomed our guilty souls and paid what we owed by His death. He rose, because death could not hold this sinless man/God. His resurrection is proof of our future resurrection, in which God will have mercy on us through His lovingkindness. How much does God care for us, individually? He sent Jesus in the triune covenant of redemption--all planned from eternity past for each one of us.
About Rev. William L. Barron:
Billy Barron is the pastor of North Greenville Church. He has pastored ARPC congregations in North and South Carolina and Florida. He has also been pastor to World Witness missionaries around the world. He was Mission Developer of Travelers ARP Church in Travelers Rest, SC.
Mark 16:1–13 (Listen)
16:1 When the Sabbath was past, Mary Magdalene, Mary the mother of James, and Salome bought spices, so that they might go and anoint him. 2 And very early on the first day of the week, when the sun had risen, they went to the tomb. 3 And they were saying to one another, "Who will roll away the stone for us from the entrance of the tomb?" 4 And looking up, they saw that the stone had been rolled back—it was very large. 5 And entering the tomb, they saw a young man sitting on the right side, dressed in a white robe, and they were alarmed. 6 And he said to them, "Do not be alarmed. You seek Jesus of Nazareth, who was crucified. He has risen; he is not here. See the place where they laid him. 7 But go, tell his disciples and Peter that he is going before you to Galilee. There you will see him, just as he told you." 8 And they went out and fled from the tomb, for trembling and astonishment had seized them, and they said nothing to anyone, for they were afraid.
[Some of the earliest manuscripts do not include 16:9–20.]
9 [[Now when he rose early on the first day of the week, he appeared first to Mary Magdalene, from whom he had cast out seven demons. 10 She went and told those who had been with him, as they mourned and wept. 11 But when they heard that he was alive and had been seen by her, they would not believe it.
12 After these things he appeared in another form to two of them, as they were walking into the country. 13 And they went back and told the rest, but they did not believe them.
(
Exodus 33:18–34:8 (Listen)
18 Moses said, "Please show me your glory." 19 And he said, "I will make all my goodness pass before you and will proclaim before you my name 'The LORD.' And I will be gracious to whom I will be gracious, and will show mercy on whom I will show mercy. 20 But," he said, "you cannot see my face, for man shall not see me and live." 21 And the LORD said, "Behold, there is a place by me where you shall stand on the rock, 22 and while my glory passes by I will put you in a cleft of the rock, and I will cover you with my hand until I have passed by. 23 Then I will take away my hand, and you shall see my back, but my face shall not be seen."
34:1 The LORD said to Moses, "Cut for yourself two tablets of stone like the first, and I will write on the tablets the words that were on the first tablets, which you broke. 2 Be ready by the morning, and come up in the morning to Mount Sinai, and present yourself there to me on the top of the mountain. 3 No one shall come up with you, and let no one be seen throughout all the mountain. Let no flocks or herds graze opposite that mountain." 4 So Moses cut two tablets of stone like the first. And he rose early in the morning and went up on Mount Sinai, as the LORD had commanded him, and took in his hand two tablets of stone. 5 The LORD descended in the cloud and stood with him there, and proclaimed the name of the LORD. 6 The LORD passed before him and proclaimed, "The LORD, the LORD, a God merciful and gracious, slow to anger, and abounding in steadfast love and faithfulness, 7 keeping steadfast love for thousands, forgiving iniquity and transgression and sin, but who will by no means clear the guilty, visiting the iniquity of the fathers on the children and the children's children, to the third and the fourth generation." 8 And Moses quickly bowed his head toward the earth and worshiped.
(ESV)